Visuals / Design
Conscript - Volume 4
Fresh from the brain of local artist/musician/mastermind Darcy Berry, Conscript Vol. 4 sees Darcy offering a collection of digital artworks centred around the theme of isolation and community. The zine has been created with a complete DIY approach, with Darcy designing, printing and stapling each copy. To welcome the new zine, we caught up with Darcy to find out how Conscript came about and what this volume entails.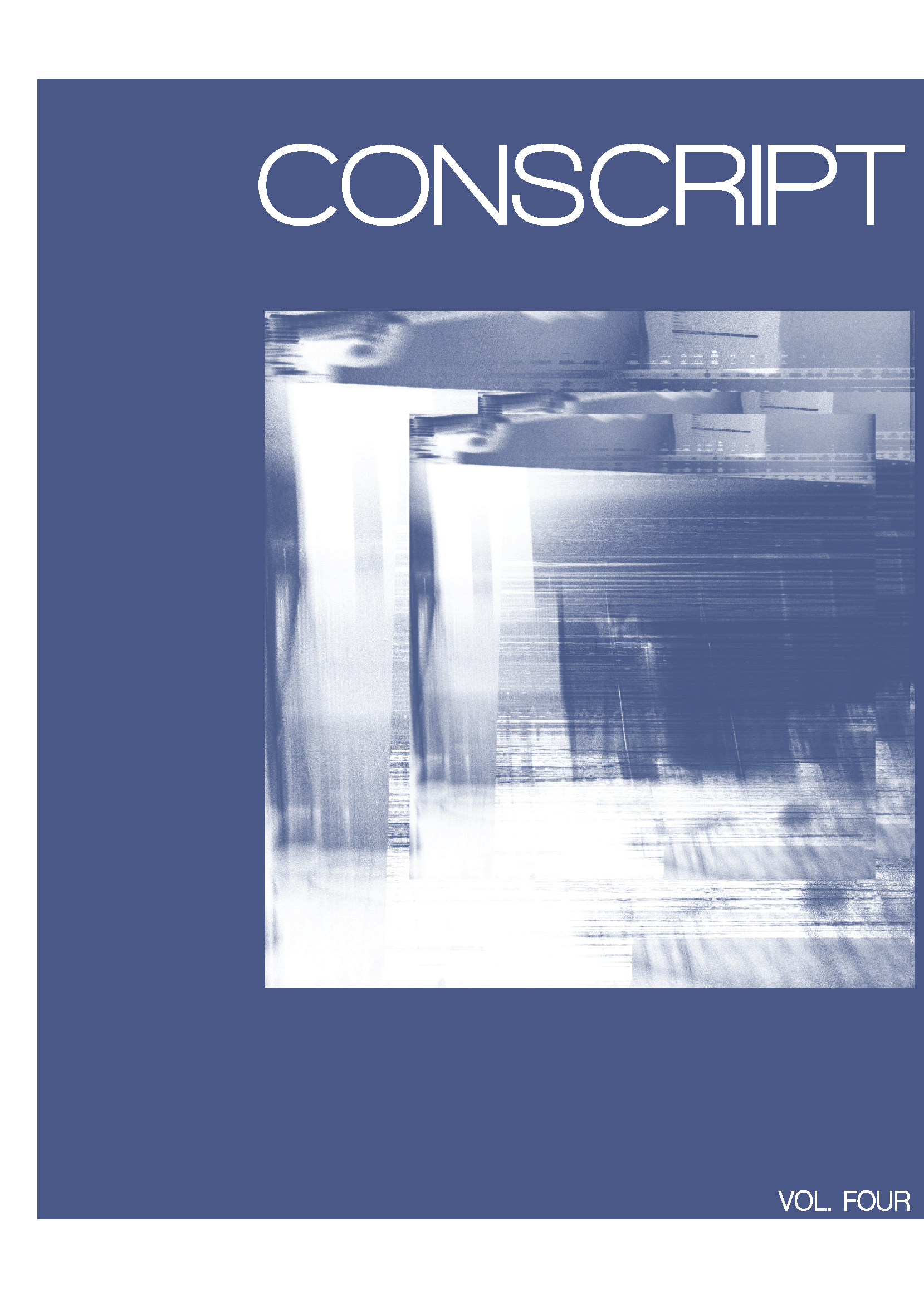 TJ: Hey Darcy, want to tell us a bit about yourself and Conscript?

DB: Conscript was a little project I begun when I was back at university, I used it as a visual platform to express myself and what I thought was art. To me, it was a method of reflecting on different periods of my life, specific moments when I needed to take a good hard look at myself and my thoughts. Creating the zine encouraged me to create art that was a true reflection of myself and conveyed what was in my head into attractive patterns.

Talk us through the process of creating a new volume of Conscript.

The zine was created mostly through digital manipulations and processes. I normally like to work quickly, but for this volume, I tried to slow myself down and take more time and care as I was in rush to complete them. I also aimed to get away from the computer and utilise more analogue techniques such as collage and photography. I still always seemed to take it all back to digital somehow - that computer's got a hold on all of us. The zine pretty much came together itself though, the artworks were just made and then compiled together to create Conscript. Normally, I would ask friends and artists from different scenes and even overseas to include their work to make up content, but regarding the theme of Volume 4 I decided to release this with only my art.

This volume is said to be themed around isolation and community. What inspired the work, and were there any unlikely influences on it?

Volume 4 was created when an extremely confusing and frustrated sense of reality came over me. I went through some fairly heavy moments in my recent life which left me completely lost in this modern world. I spent a lot of time in my room alone, barely communicating to others. Isolation had taken hold of me and I was confused by the whole concept of reality - I didn't want to be any part of any community. The works I made at this time portray my feelings towards being isolated, yet not lonely. I embraced the seclusion - in fact, it was something really needed for a while - and it is reflected in my art, which I can now look back and reflect on past contexts.


| | |
| --- | --- |
Each page seems to have its own unique feel, and through the zine there seems to be mix of mediums as well. How do you go about combining all the separate pieces into one volume?

Well, all of the works were made at my desk in my room, hunched over in the same way each time. They all share the same persona and influence, so when it all goes together in a single document the works dance the same dance when standing side by side, embedded with the same mindset. I think this volume as a whole communicates all the different corners of my style and the themes.

Do you feel like there's a point of difference anywhere? Could you describe some of the challenges in creating Vol. 4 of Conscript?

Almost losing my mind was definitely a challenge ¯\_(ツ)_/¯. The mental state and lack of direction I had throughout this period was fairly unhealthy looking back on it now. I wasn't in a very good place. But that's why I make these zines, to look back on the past and acknowledge that I made it through and that things go on. Now Ozzy Osbourne's state of mind during Black Sabbath's Vol. 4 is something to really discuss.

You're launching the zine at the end of the month and it's looking like it'll be a pretty banging night - any idea what we can expect?

You can expect some of the coolest rock 'n' roll bands of Melbourne right now, some artworks on the wall to steal, a 5-star aesthetic environment with not one but two bathrooms, and some zines for sale of course. Oh, and maybe some fancy outfits.


The Conscript Vol. 4 launch is taking place at a secret location in Collingwood on Saturday July 28th, featuring a killer lineup of Parsnip, Nightclub, Dearth and U-Bahn. Secret location announced on the day so keep your eyes peeled.