Events / Upcoming
Sensitive Sweethearts
Showing as part of this year's Midsumma Festival, Sensitive Sweethearts is an exhibition for "those who wear their hearts on their sleeves", and celebrates being open and honest with our feelings - even the messier ones.
The exhibition features work from over 40 emerging & established queer, women & non-binary artists, and invites viewers to get in touch with their emotions, to embrace their vulnerability, and encourages them to embrace experiencing the raw and the real.

To get our feels working ahead of opening night tomorrow, we dropped in on a chat between curator Tegan Iversen and some of the 'sweethearts' featured in the show.
TI: Who are you? (age, day-job, star-sign)

Freya Alexander: I'm a 26-year-old high school teacher and artist, and I'm a Taurus.  

Shannon Mary: I'm 27 years old, a vibin' Gemini and a freelance artist and writer.   

Sophie McPike: I'm thirty years old and I still don't know what I wanna be when I grow up... maybe a mountain? But for now, I work as a full-time illustrator/artist for my own creative brand, Thistle Be Nice.  

Zoe Harriet: I'm a photographer, Illustrator and a Leo.    

Give me some of your faves. (artist, song, movie, type of flower)

Shannon: One of my favourite artists is Yoko Ono, she is beyond inspiring with the way she constantly pushes boundaries and finds ways to create new and fascinating ideas. One of my favourite songs at the moment is 'hope is a dangerous thing for a woman like me to have - but I have it' by Lana Del Rey. One of my favourite films is Withnail and my favourite flower is a sunflower.  

Zoe: Illustrator: Alice Fennessy, a New Zealand illustrator. Her work is achingly beautiful and raw. Her technical execution is second to none.
Song: 'Surfin' USA', The Beach Boys (the soundtrack to a lot of childhood road trips).
Movie: My Neighbor Totoro.
Flower: Waratah.  


Freya Alexander
Us I
Oil on canvas

Freya Alexander
Us II
Oil on wood
Tell me about your artwork for Sensitive Sweethearts?

Freya: The two works I've made for the show are called 'Us', and they depict someone very special to me. The first work is a portrait depicting a moment of intimacy between myself and my girlfriend. The second work, which is abstract, was made using the paint palette from the first work. In this way, both are paintings of 'us', though one is more figurative, and the other is made up of the colours of 'us'. We are both strong and sensitive sweethearts, and I wanted to capture the feeling of us navigating that together  

Shannon: I created my artwork after reading some of John Keats' letters and poems (hence the title). I was thinking about another mountain landscape I painted last year and the way a friend had told me they liked the one white part I'd added to the work. It was such a small part but it had been my favourite too. Thinking about human connection and sensitivity, I felt like the way my heart reacted to that comment from a friend would be the perfect inspiration for my work for this show.   

Sophie: My artwork is about my love for whales. It's called 'the 200 Year Old Whale' because I learnt that whales can live for 100 years and then when they die their bodies can house living things for another 100 years. Also, 200 years ago whales were able to hear each other's songs from the other side of the globe but unable to hear each other now. They are the biggest creatures, and they just always look like they need to be held and loved.  

Zoe: I made the piece in response to the bushfire crisis. The situation is gut-wrenching and awful. There isn't much good news to come of it, only little tiny nice moments. The gorgeous story of Bear the wildlife rescue dog is something nice to hold onto. A bloody good boy.   

Where did you make this work?

Freya: I made these works at my mum's studio in Maidstone, MREAM, and on my kitchen table. My mum is also in this show (Vonne Beyer!) 

Sophie: I made this painting in my home studio while listening to old silent film soundtracks.  

Zoe: I made this at my home in the Dandenongs, holding my pups Gully and Lucy close.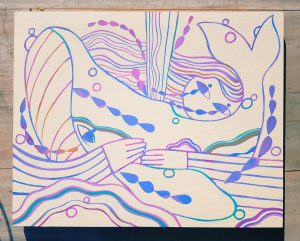 What makes you a sensitive sweetheart?

Freya: I consider myself a sensitive sweetheart because I am kind, empathetic and (aim to be) unashamed of my emotions. I also believe that being sensitive, or soft, can be a form of strength, and I think our sensitivity can make us really powerful.

Shannon: I think I have a larger supply of empathy than I do of anything else in my personality. This makes me incredibly sensitive to the people around me, what they're feeling, what they're communicating not only with words but also with their actions and body language. I think that's what deeply qualifies me to be an official Sensitive Sweetheart.

Sophie: I am a Pisces (sun, moon AND rising!) INFP - so, I am your ultimate soft and squishy sensitive sweetheart. I feel everything so deeply and with so much love.

What does Midsumma Festival mean to you?

Freya: Midsumma is about being proud, embracing our diversity and celebrating our love.  

Sophie: Midsumma Festival just feels like a big, warm, well-needed heart hug! Such an amazing and nurturing community to have the privilege of being part of.


Shannon Mary
I almost wish we were butterflies and lived but, 3 summer days.
Acrylic on canvas




Zoe Harriet
Bear.
Watercolour
(100% of the profits from the sale of this piece will be donated to Wildlife Rescue Victoria)
When was the last time you cried?

Shannon: I cried this morning. I've been recently heartbroken and for the first time in weeks, I woke up and forgot that it happened and the pain seemed to wash over me with new levels of hurt. I cried for an hour before getting out of bed. But then I also cried while watching a video my Mum showed me recently of a cute baby dancing so, it doesn't always take something as devastating as heartbreak to bring me to tears.  

Zoe: Watching the emergency fire coverage on the news.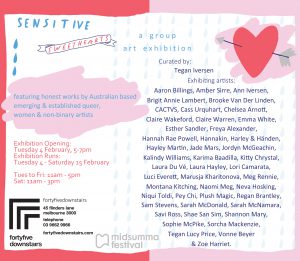 Sensitive Sweethearts is showing at fortyfivedownstairs as part of the 2020 Midsumma Festival. The exhibition opens tomorrow, February 4th, from 5-7pm and runs until Saturday, February 15th.