Events / Upcoming
Music in the Mountains -
A Chat with Grampians Music Festival
A celebration of regional towns, Australian music and good vibes, Grampians Music Festival returns for its fourth year at the end of the month. Ahead of the event, we caught up with the festival programmer Juliette Lalli to find out what's in store for us this year.
Only in its fourth year, Grampians Music Festival is already proving itself to be one of the most exciting and innovative emerging festivals in the country. Where other regional festivals often opt to remove themselves from the towns that host them, preferring to give festival-goers the space to switch off from society, GMF revels in fully immersing its audience in the local atmosphere of the Grampians, showing off what the region has to offer.

Held in Halls Gap, a small town in the centre of the Grampians National Park, it's located in one of Australia's most picturesque spots - the festival site is literally surrounded by 360º mountain views. "I really love the region and I think having it in a mountain surrounds is pretty special," says Juliette, "when the artists play, it's like performing to the mountains." It's just as enticing for the audience though, as she adds "I don't think I've been to a festival where you're literally across the road from where you can go hiking."

Embedding GMF in the heart of the region seems like an obvious choice for a festival that so clearly appreciates its local community. From its focus on regional vendors, to their emerging artists stages which give local acts a chance to perform in-town, through to their mentorship program which aims to provide regional youth with real experience in the festival industry, it really is a celebration of what makes the area special.


| Angie McMahon at GMF 2019 | Body Type at GMF 2019 |
| --- | --- |
As Juliette explains, GMF originally started as an initiative to bring more people into the region. "Halls Gap is a tourist town, which does best during particular parts of the year," she says, "and there are lots of small businesses that rely on the money that comes in during those holiday seasons. So the idea of the festival was to bring new people into the region [in times where tourism was a bit slower], and bring art and culture in for the people who already live there who may not experience it as much."

This past summer have proved to be an especially trying time for the town, in the face of Australia's devastating bushfire crisis. "Even though the Grampians is on the other side of the state to where these really horrific bushfires have been happening, towns all across regional Victoria (and NSW as well) are experiencing a massive drop in tourism" she explains. While Juliette stresses that the festival would not be going ahead if there were any fire risks, she mentions how important this period is for the town and its businesses. "I've had word from a lot of people in the region that they need a lot more help tourism-wise - these periods around Christmas and school holidays, these are the times where these businesses rely on getting money to sustain themselves for the rest of the year. We want to encourage people to come into the region and spend money, and if they've never been there before to experience it for the first time and think about going back there again."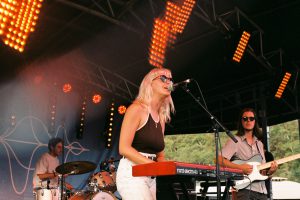 This year, GMF especially stands out thanks to its lineup. As with the past events, this year's lineup was carefully curated by Juliette and the GMF team to celebrate up-and-coming Australian artists, with a key focus on inclusivity and accessibility. With everything from pop to punk and electronica on the menu, it's a lineup that perfectly encapsulates the diversity of GMF's audience. After mentioning the lineup's impressive gender balance, Juliette thinks for a moment - "it's really important to me as a woman programming this. This year, 21 out of 22 bands have non-male members or led by a female, which is a really big thing. We really want [GMF] to be a space that everyone can enjoy… it's not an afterthought or accident."

The festival also prides itself on putting emerging acts on a festival stage, sometimes for the first time ever, and often with brand new performance opportunities. "Last year the festival was headlined by Sampa the Great, who's obviously massive and was pretty huge at the time, but had never headlined a festival. Having someone like her headline the festival is what we're all about."

This time around, indie-rock mainstay Julia Jacklin has wound up with the headline spot, off the back of her huge 2019. While Juliette admits Julia might be a little more accustomed to the festival stage by now, its definitely a thrill to see such an accomplished performer sharing a stage with emerging Melbourne favourites like Gamjee, Sledgehammer and Zoe Fox and the Rocket Clocks. Such a mixture of performer size is no accident either though, as Juliette shares "I've put a lot of work into who goes where and how it all flows sonically, so I think it will be really nice to see that in the flesh, how the artists and their music interacts with each other."

When pushed for any final words, Juliette just seems excited to have people on site, enjoying the results of all the GMF team's hard work. "It's been a whole year or more of planning, so it's just nice to see people on the ground and enjoying this thing that we spend most of our year working on. It's such a small team and to build this big thing out of nothing, I'm just super proud of where we're at in year four."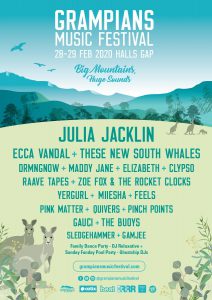 Grampians Music Festival takes place later this month, over two nights from Friday February 28 to Saturday February 29. Tickets are available
here
.