Regulars / Homebodies
Homebodies -
Staying In with Shannen Egan
I guess lockdown is kinda on its last legs now, but we've still got some more buds we wanted to catch up with so Homebodies ain't going anywhere yet.
Shannen Egan is the mastermind behind Turning Heads Agency - a boutique artist development and management group that's championing the next wave of serious Australian talent, with Tamara and The Dreams, The Dead Love and Columbus currently on the roster. She's also kept busy this year as an assistant manager at Ground Control, and as part of the original team behind Isolaid.

Here's what else Shannen has been up to lately.


What are you watching?
I am currently binging on Glee and New Girl with my housemate. I don't care what you say, Glee is a masterpiece!


What are you listening to?
I have been listening to a lot of new music lately. Some of my favourite local releases so far are: 

Egoism - WHOLE NEW FRICKEN FAB EP On Our Minds

Cry Club's new album God I'm Such A Mess, holy fudge!!!

The Dead Love new singles - 'Small Talk' and 'My Friends'

Tired Lion - Breakfast For Pathetics

Tamara & The Dreams new singles - 'internet song' and 'FUNNY!'


Sweater Curse and STUMPS just brought out their latest EPs in the past few months, that I also haven't been able to get enough of. But I'm also sinking into my guilty pleasures that are; Sam Smith, Demi Lovato and a lot of Bombay Bicycle Club, Enter Shikari and Bloc Party. Oh! And the Plovers EP, go check 'em out if you're into post hardcore/punk shiz.


What's keeping you busy?
Hmmmm, I hate to say it and be boring but grant writing! I've never written so many grants in such a short space of time. Normally I would procrastinate on them because in the past, it's literally brought me to tears at my desk but it turns out the more you do, the easier it gets, who would have thought? 🤷‍♀️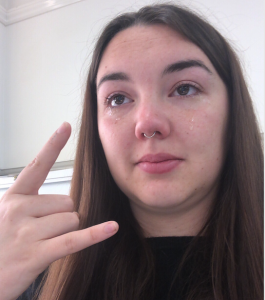 Now that things are re-opening, I've also been planning a potential Turning Heads gig series at a range of venues on top of 2021 release/touring strategies for my artists, which is incredibly exciting!
Anything you're doing differently?
Life as we knew it has completely changed, especially here in Melbourne. I used to spend probably six out of seven nights of the week at a gig. I miss you Northcote Social Club (my second home). 💔
Finally we're starting to see live shows pick up and the community re-open in Vic, it honestly felt like it was never going to happen! I can't wait to get my first glimpse of live music after a long hiatus and feeling like the missing pieces of the puzzle are back in place. Check out
Tamara & The Dreams with BOAT SHOW and Kaitlin Keegan
at The Leadbeater on the 6th of December!
Tbh, the lockdown has brought over a lot of self reflection and what it means to be in the music industry and what standards I want to set myself apart from. I think a lot of people are going to come out of this refreshed and as eager as ever and ready to adapt and collaborate.
Also, I've cut back heaps on the booze and it's really helped with my mental health and clear my mind. I think it's easy to get caught up in the world of music and booze when realistically, they don't have to go hand in hand.
What's the worst isolation idea you've had so far?
I asked my housemate to cut my very long hair off with a pair of kitchen scissors. It doesn't look that bad to be fair.
What's something keeping you inspired?
1) My artists. Currently on my management roster I'm working with; The Dead Love, Columbus and Tamara & The Dreams. They're an incredible, talented bunch of people and I'm very lucky to be able to work with them and be a part of their music journeys.
2) My friends. There's been a lot of changes for us all and I think it's important to surround yourself with a healthy support network that can bounce off one another when things get tough.
3) The music community. No matter what happens, the music community finds a way to adapt and support each other. I love that.
4)
supportact.org.au
5) Booking live shows/tours for the upcoming months, eeeeeek!
Best ways to support the community at the moment?
Stream songs! Add songs to your personal playlists! Buy merch! Buy tickets! Follow and engage with the artists you're listening to! Donate to
supportact
!
How can we support you?
You can support me by supporting my favourite local artists. Follow and listen to - The Dead Love, Columbus, Tamara & The Dreams, Alex Moses, ENOLA, Plovers, Moaning Lisa, Pot Plant House Party, Egoism, Cry Club… I could sit here all day and list more incredible local artists but you can follow this playlist instead.
Keep up to date with everything Shannen's working on by following Turning Heads below.