Music / Premieres
Video Premiere:
Deuce - Antipodes
Today we have the pleasure of sharing a first listen and watch to 'Antipodes', the (sort of) debut single from emerging Melbourne outfit Deuce - an evocative invitation into the duo's dreamy world of enigmatic guitar-pop, that doubles as a stunning taste of their forthcoming debut album on Dinosaur City Records.
Following the release of their track 'Day Three' as part of Dinosaur City, Osborne Again and co's excellent Stay Inside compilation from last year, Deuce have returned with their "first official single" and a more formal introduction. Where 'Day Three' shone with its minimalist and slowburning approach to indie-pop, 'Antipodes' instantly reveals the immense scope of the project and its contributors, visual artist Kayleigh Heydon and Curtis Wakeling (who you'll recognise from The Ocean Party and Pop Filter).

With reference points from Felt and Mazzy Star to Beach House, 'Antipodes' rides the line between dream and jangle pop effortlessly. Simultaneously lethargic and radiant, the track emerges around a sedated groove, as chiming guitars and shimmering keys swirl into a hazy kaleidoscope of sound and Kayleigh and Curtis' voices blur together with a dreamy languor. The oppressive heat that Kayleigh sings of in 'Antipodes' opening lines is perfectly encapsulated by the track's balmy atmosphere, but as the lyrics twist to tackle homesickness, this pervasive sense of nostalgia begins to slowly amount; to the point where it feels equally stifling as the meandering instrumentation continues to unravel and play itself out.

Speaking about the track, Kayleigh shares "space from things and places is important, but when that space becomes so distant that the memories become misty, we start to long for what we don't have, become fidgety with our choices. I hadn't visited home (Manchester, UK) for two years, happily in the Melbourne bubble. Suddenly with a pandemic cloaking the world and travel halted, its becomes three years since I've embraced my family; my baby nephew, my dad, mum and sister. Time begins passing in slow motion and it starts to hurt. Some days you're totally fine, but some days it really hits hard, and I know I'm not alone in that."

The accompanying clip perfectly leans into the wistfulness of 'Antipodes', compiling home video recordings from Kayleigh's life growing up in Manchester to create something just as vivid as the track on its own. She explains "my parents never stopped recording us, and I feel lucky that we have these memories to reach back to like this. The video tapes sat unearthed for for about 15 years, collecting dust. I haven't seen my family back home in Manchester for a few years now, it hurts at times, life is moving on and things are changing and there's no time in the future I can imagine safely travelling to visit them. After talking and telling my parents about a song I'd written about them, they decided it was time to remember our family together, growing and learning and having fun. The videos were sent to me a week later through a Dropbox link and I sat alone one morning and watched 6 hours of footage and cried. There was no better material to show what the song meant to me."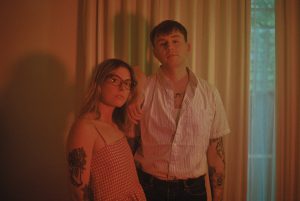 'Antipodes' is out in all the usual places today, and head to
deucemusicau.bandcamp.com
to pre-order Deuce's forthcoming album before it drops on June 16th.