Regulars / Homebodies
Homebodies -
Staying In with Al Matcott
I was sorta grateful that we managed to put this segment to rest last year, but things change and we've decided to sneak in a little throwback episode with local folk-rock guy Al Matcott, off the back of his debut single 'Mediocre'.
Despite spending a good few years playing in a number of bands around Melbourne, it seems like it was inevitable for Al Matcott to begin sharing music under his own name - his understated charm and classic songwriting smarts naturally scream 'solo project', especially so with the hazy alt-country of 'Mediocre'.

Built around a laid-back guitar jangle that flits over a bouncing groove, 'Mediocre' is quick to wash us over with its spirited mixture of sunshine pop with a familiar alt-country sway. With Al's languid vocals riding over the ebbing instrumentation with a gentle twang, the track coasts along casually, despite being clearly contrasted by his stark lyrics. With lines like "don't waste my time with your dick-measuring bullshit", "don't misconstrue peace of mind with heavy drug use" and the refrain of "why would you choose to be such a mediocre person?", Al adds a hint of bleakness to the track - however, amongst the warm backdrop, his playful intonation gives the impression that although he's not afraid to be scathing, it doesn't all have to be negative.


We checked in with Al to find out what he's been up to during Melbourne's latest snap lockdown.


What are you reading?
I'm reading a book called Radical Mycology which is a 600 page tome on fungi. It's super interesting, I think fungi is a forgotten mega-science and if we do manage to repair all the damage we've inflicted on the world, fungi will be one of the heroes to guide us there. But it's also 600 pages long and weighs 2kgs and I don't know about you but I didn't study chemistry or biology, so a lot of the language is completely lost on me and I'm missing some vital information along the way. My partner and I have a broken bed and we used stacks of books to keep our bed up for like three years and this book was one of them. Now we've upgraded to bricks to keep the bed up so the books are freed. But in that three years this new book called Entangled Life came out which is also about fungi, but it's only about 250 pages so I'm thinking of switching to that one hey.


What are you listening to?

I've been listening to this Daniel Lanois album Belladonna. He's a producer who worked with Bob Dylan on Time Out of Mind and U2 on The Joshua Tree - but this album of his is like an ambient country album. It's lush, lots of lapsteel, always interesting. Loving it.


Anything happening in the kitchen?
Tonight my partner and I ordered a dine-in Indian feast from our mate at @wearekarela which should be delish. Aside from that there'll usually be some combination of vegetables, cumin and lime in the kitchen.


Anything you're doing differently?
Been trying breathing exercises, meditation and exercise during lockdown to try and ward off the consistent anxiety, to varying degrees of success. Last year I fucked my back up trying to pick up an onion off the table and I was like "you piece of shit this isn't meant to happen for another 40 years" so I've been pretty diligent since then in stretching and physical health. But at the same time I have been drinking a lot of wine so I don't know for certain where my health is actually at, probably 65% good 35% average.


What's the worst isolation idea you've had so far?
I bought a 'vintage' North Melbourne Kangaroos hat for like $75 which would not have happened if isolation weren't so boring.


What's something keeping you inspired?
Just trying to improve the tunes that I'm writing and letting inspiration take me wherever. A friend put me on to the poetry of Alejandra Pizarnik and that was a real jolt of inspiration, her poems are devastating. 


Best ways to support the community at the moment?
Stay inside I suppose? Be kind to yourself and those around you. If you've the means, support local businesses and organisations doing their part.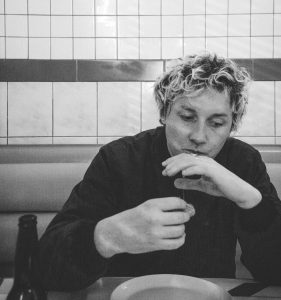 'Mediocre' is out now in all the usual places.