Music / Features
TJ's Top 50 Tracks of 2021
#50 - #41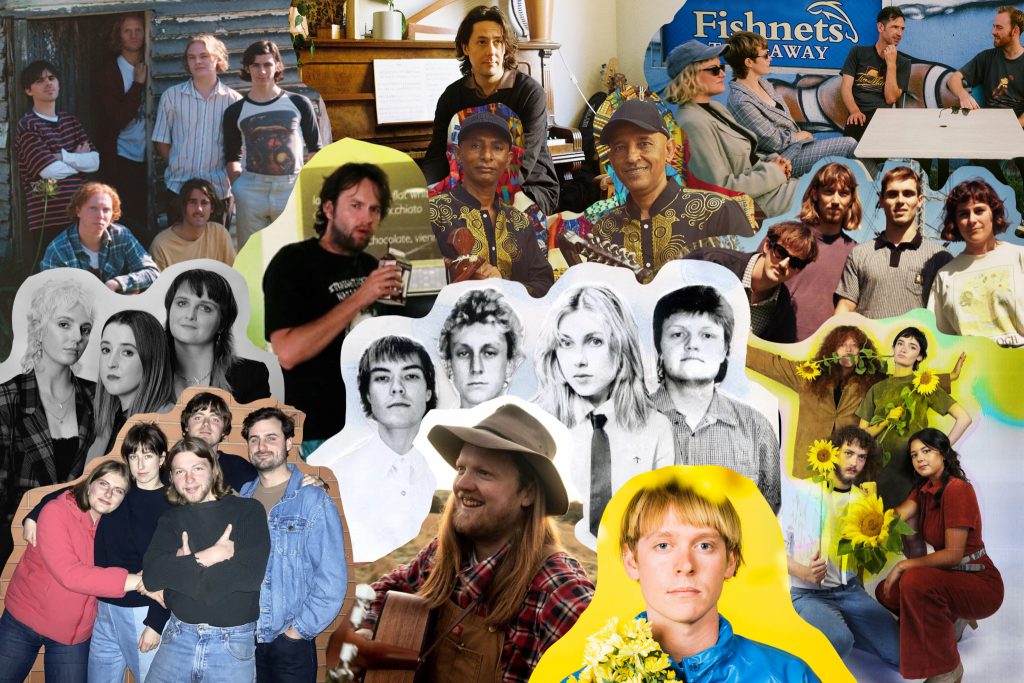 When we first decided to run a countdown of our favourite songs of the year last December, we thought it would be a one-time-only thing. However, another weird twelve months have rolled around and we felt like we wouldn't be doing our job properly if we couldn't take a moment to celebrate some of the excellent offerings that were served up this year.

This time around though, we've decided to share the fun by reaching out to a few friends of Trouble Juice along the way, to find out what some of these tracks mean to them. So here we go, Trouble Juice's favourite tracks of 2021, beginning with #50 down to #41.
50. Delivery - 'Floored'
Just to remind you all that you can't be putting too much weight on these countdowns, we're kicking things off with an incredibly biased decision. But if there's anything we've learnt from another year in and out of lockdown, there's nothing wrong with looking out for yourself a little bit. And if this choice does feel a little rigged, tell that to the stone-cold attitude that Bec Allan and Lisa Rashleigh serve up on this track, not me.
James Lynch (Trouble Juice editor, also in Delivery)
49. Floodlights - 'The More I Am'
Following their excellent 2020 debut record, this year Floodlights kept their cards closer to their chest with just two new tracks, released as a 7" double single through
Tiny Town Records
. Our highlight was 'The More I Am', a stirring and resounding moment of guitar-pop that delicately balanced a combination of jangle and rockier terrain with its unreserved sincerity. Vocalist Louis Parsons's distinctive Aussie twang has always been one of the main draws to Floodlights and it's as powerful as ever here; he never feels the need to hide behind affectations or crude tonal ticks, which made this track all the more rousing and relentless.
Conor Lochrie (Trouble Juice contributor)
48. Watty Thompson - 'The Beauty That Surrounds Ya'
In his first outing trading the Gibson SG of Sheriff for an Acoustic Maton, Watty Thompson delivered us a perfectly timed reminder to take a step back, take a look around you and appreciate what's there before it's not. From the first few seconds of cackling kookaburra to its final triumphant rollicking chorus, 'The Beauty That Surrounds Ya' embraces you like an old friend with a cup of tea (or pint of home-brew, if you want it). Between the whines of slide guitar and warm hums of accordion, Watty's comforting, spat-out vocals take us through a meditative reflection on all that is good about doing nothing and you'll find yourself hanging onto every word. If this were a list for loudest-sung-chorus-in-my-car-this-year, this would be very strong contender for first place.
Francis Tait (Quality Used Cars)
47. Sunfruits x Candy Moore -
'Mushroom Kingdom (Candy Remix)'
Earlier this month, Sunfruits teamed up with Candy Moore to share a reimagining of their track 'Mushroom Kingdom', a remix that transforms the original's playful psychedelia into a thumping dancefloor-ready banger. Built around a stomping four-to-the-floor backbeat which flirts amongst a rich tapestry of exuberant percussion, esoteric samples and Winter McQuinn's signature vocals filtered perfectly for the club, it's an imaginative and instantly addictive reworking of Sunfruit's colourful sonic world.
James Lynch (Trouble Juice editor)
46. Tam Vantage - 'Living On The Outside'
The opener to Tam Vantage's third full-length album
Laughing Gas & Apple Pie
leans into the rough recording techniques of classic Flying Nun bands, thanks to its knack for jangly guitar tones and distorted power-pop with a hyper-sensitive edge. Over a David Kilgour-possessed riff, the track is bolstered by Tam Matlakowski's melodic ramshackle guitar pop and a swarm of momentum over a near-motorik drumbeat and an absurdist approach in finding contentment.
Joe Massaro (Paperface Zine)
45. Music Yared x Mikey Young -
'Sindayo (Mikey Young's Masinko Remix)'
Expanding on the sounds heard on their self-titled debut EP, in April Music Yared teamed up with Mikey Young to share a collection of remixes of their track 'Sindayo'. Like the original tune, Mikey's reimagining remains indebted to the traditional instrumentation that Music Yared's Anbessa Gebrehiwot and Haftu Reda utilise, as well as the duo's rousing, soulful vocals. However, with some freshly added undercurrents of bass and synth and its propulsive backbeat, the track turns enigmatic, calling us to the dancefloor as is stretches out for a mesmerising nine minutes.
James Lynch (Trouble Juice editor)
44. Loose Fit - 'Exhale'
On 'Exhale', Loose Fit's first new music since their 2018 debut EP, the Sydney four-piece more than made up for lost time with a track that masterfully wrangled the group's post-punk idiosyncrasies, art-pop smarts and groove-heavy rhythms together with ease. Nervy and terse, yet just as spirited and oddly addictive, 'Exhale' made for a thrilling return that has us very ready to see what 2022 will bring from the band.
James Lynch (Trouble Juice editor)
43. Bones and Jones – 'Sanity'
The output from Bones and Jones is so impressive, and especially since they never short on the quality of the music they put out. A standalone track that arrived hot on the heels of their hit-loaded third album
Ginger Gold (Farm Singles)
, 'Sanity' is a charming dose of their signature garage-rock and just one more of their singalong songs to dig.
Winter McQuinn (Sunfruits)
42. Dianas – 'Bliss'
Following on from their dazzling second album
Baby Baby
, Dianas wasted no time with the release of 2021's
Little Glimmer
, which made unwavering lead track 'Bliss' the perfect return single just twelve months later. Built around hypnotically unrelenting guitar lines and drums that burst in like a V-line train, 'Bliss' is a four minute explosion of dreamy power pop that captures all the artistry and proficiency that makes Dianas so bloody good.
Francis Tait (Quality Used Cars)
41. OUZO! – 'State of Affairs'
One of two piercing tracks from OUZO! this year, 'State Of Affairs' is a blast of the electrifying punk squalor that the band are very quickly making a name for themselves with. Built around a fervent, wiry guitar line and Aidan Link-Freeman's idiosyncratic vocal taunt, 'State of Affairs' is an exciting indication of why OUZO! are ones to watch; equal parts chaotic and intellectual, this track (as well as B-side 'Balloons') is the most refined and characteristic release we've heard from the band's brief but steady growing discography, and has me hanging out for where they'll be taking it next.
Francis Tait (Quality Used Cars)
Stay tuned for the rest of our Top 50 over the coming week.
PS. You can also keep up with the list on Spotify
here
.