Track by Track:
The Uplifting Bell Ends - Super Giant IV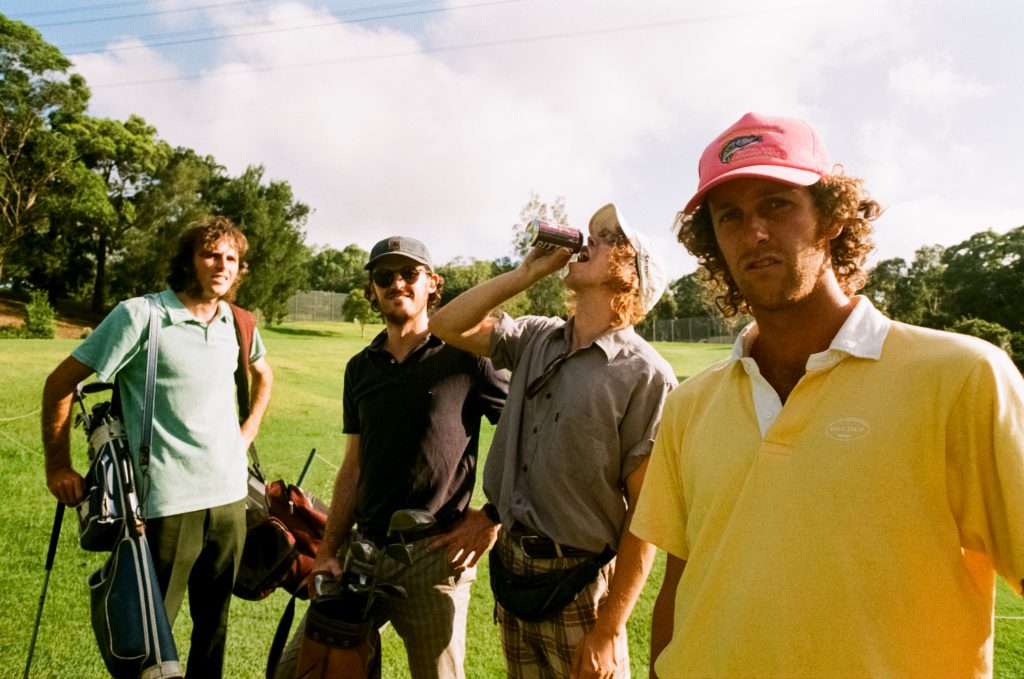 Following the release of Super Giant IV last Friday, James and Chet from Sydney psychedelic masters The Uplifting Bell Ends have been kind enough to give us the inside scoop on their latest collection of charming and lopsided folk-tinged garage-pop.
Since their self-titled EP in 2013 and their debut album World Music in 2015, The Uplifting Bell Ends have become one of Australia's most charismatic and consistent psych-folk acts. In 2015, they also embarked on their largest endeavour to date with the "Super Giant saga", a collection of four albums spanning seven years with their latest release arriving as the final chapter in this epic series.

Despite its honed hooks and self-assured performances, across its 10 tracks Super Giant IV sounds something like eavesdropping on your best mates' band practice. There's an affable energy in the air that's completely contagious - whether that's across the playful solo breaks of 'Dear Friend', the ramshackle swagger of 'G'Morning Sunshine' or the conversational group vocals that elevate 'Keeping It All Together'. Even with a handful of instrumental tracks thrown in for good measure, right across the listen it's easy to hear The Bell Ends having fun with each other, with every new instrumental flavour that pops up or each adventurous change of pace that throws us listeners for a loop.

To help us dig in a little deeper, vocalist James French and multi-instrumentalist Chet Tucker have kindly shared the stories and inspiration behind the tunes that make up Super Giant IV.
Travellin' Home

James French: I think the lyrics in this one sum up what it's about pretty good - being homesick and longing for some old friends back home after living in the central desert for quite a while.

Chet Tucker: After James and I laid down the basic tracks we overdubbed organ, bass and electric guitar. Me and Whitto traded guitar solos in the middle section.

Dear Friend

JF: The meaning of this one is quite elusive and changes from time to time. When we play it live now, it's for my Kelpie, Red Dog.

CT: I think we wear our influences on our sleeves in this one. The Carole King-esque piano solo and 70s easy listening references. Luke came through with a melting guitar solo. Two wah pedals simultaneously.


I'll See You Again

JF: I wrote this song in Yuendumu, inspired by the landscape. It's about all the good old times I would be having if I wasn't in Yuendumu.

CT: Me and James did the drums and guitar live. This one has a real solid groove. Like if The Eagles tried to play funk or something.


Nocturne In Chet Minor

JF: This song is an instrumental so I suppose it isn't about anything. However I do find that our instrumental songs are the most expressive. Maybe it's about taking a trip up the River Congo in a very disheveled and questionable tug boat? The captain was a friendly and well mannered fellow who was kind enough to lend his chord organ which he kept in his quarters.

CT: I recorded the piano on this track in an empty church hall that I broke into. It also features some great violin work from Amber Newell

That Old Familiar Feeling

JF: This song was inspired by a meal me and my wife at the time had in a restaurant named Sangam Tandoori, in Williamstown, VIC. It was a regular evening meal, I was finishing my Rogan Josh when my wife suddenly sprung out of her seat exclaiming she had an "old familiar feeling" and then rushed through the restaurant toward the ladies bathroom. Curious by the strange words and actions of my wife, I looked over to her plate and made a note to myself to avoid ordering the chicken Korma next time.

CT: The acoustic and drums were recorded live. Once we had the basic tracks down, we built an orchestra of sappy synth strings to make it more of a dramatic ballad.

G'Mornin Sunshine

JF: I wrote this song in Yuendumu as well, it has the only desert reference in the whole album. It's about making decisions.

You Win Some/You Lose Some

JF: Chet wrote this one and I threw some classic lyrics on it. I think Chet was inspired by the Charlie Brown theme song.

CT: We asked Josh White (Third Eye Stimuli) if he could lay down some drums on a track and this is what we got. I was playing the Wurlitzer piano and Josh was doing the drums at the same time live.

Keeping It All Together

JF: This is definitely Whitto's (Jack Whittingham) song. I was not involved in the writing or musical development of this song. I personally like the part about chopping up your vegetables quickly because you have to go to school.

CT: We ended up joining two separate songs together like Paul McCartney. Whitto recorded the drum machine from an old organ and overdubbed all the instruments himself in the first half.

Some Things Are Too Good To Be True

JF: Chet wrote this song.

CT: After listening to The Band I made this on the acoustic guitar. I got Amber to record three different violin takes and without noticing until mixing I thought they sounded unintentionally coherent harmonically, so I used them all.

Maid To Remember

JF: It's the follow on to the SGIII song 'A Knight to Remember'. The finger-picker songs always take me the longest to put together and despite what people say, I am not inspired by John Fahey or Robbie Basho. I didn't hear these guys and think "wow what a great idea! Playing acoustic guitar". That's absurd. The finger-picking songs off SGIII and SGIV, I reckon are quite stand alone songs and probably the best examples of songs that are uniquely their own. I'm sure if you asked John Fahey or Robbie Basho if they were inspired by one another they'd say "no".
Super Giant IV
is out now via
Third Eye Stimuli
- head to
thirdeyestimuli.com/
to purchase the album on limited vinyl. The Uplifting Bell Ends are currently on tour around the country - head
here
to check out the dates.