Track by Track:
The Fillmores - Makey Sensey
Ramping up the jangle with an inviting array of herky-jerky dance music, Makey Sensey is the debut full length offering from Naarm/Melbourne sextet The Fillmores. To celebrate its release, we had Jack and Seamus Fillmore talk us through each moment track by track.
Best described as peculiar yet inviting, The Fillmores fill a musical void somewhere between ESG, jangle pop and lounge music. Establishing this eclecticism through a string of collaborative EPs and single releases, Makey Sensey is the group's formative statement - a debut record filled with shining individual moments and vibrant songwriting that embeds the band into jangle-pop-and-dance folklore.

As the name suggests, Makey Sensey conjures a chaotic catharsis across its twelve track span - thematically weaving the individual musings of songwriting duo Seamus and Jack Fillmore through a sonically diverse musical soup. Traversing with a considered range of strings, saxophones, keyboards and dinky drum machines, Makey Sensey finds unity in its idiosyncrasies, the result being the band's strongest offering to date.

Expanding upon last year's lo-fi and self-recorded Moonsurfing EP, Makey Sensey sees The Fillmores purveying a broad set of sounds and themes across its almost 50-minute runtime. Tracks 'A Bit Too Much' and 'Out of the Blue' nod to the group's love of jangle pop and dolewave, while centrepiece tracks 'Popsonglove' and 'Deathboogie' tackle herky-jerky dance music each with an equal level of earnestness. Told through the distinct voices of brothers Jack and Seamus Fillmore, the album covers a unique thematic split - one of a coming-of-age, love-lorn nostalgia and another fragmenting much broader societal concepts into abstract portraits.

This split can be heard in the musical flow of the album too, which covers an impressive array of genres woven through idiosyncratic production and distinctive ocker songwriting. In spite of its juxtaposing sounds and themes, Makey Sensey finds parity through the sextet's intangible chemistry and performance. Shown on album stand-out 'Heading Down' - the band's strongest live recording to date - The Fillmores lay down beautiful string arrangements and keys atop a joyous and somewhat anthemic tribute to their hometown of Apollo Bay. Helping encapsulate the themes and sounds of the album, 'Heading Down' draws the listener into the album's concluding statement on 'Jonathan Pidgeman', another song that feels indebted to the group's innate sense of comradery that often glues Makey Sensey together - pigeon cooing and all. "It's whacky yet it's peaceful, it's Makey Sensey."

A few weeks on from its release, we had Jack and Seamus talk us through Makey Sensey track by track below.
Half Between

Seamus: I remember writing these chords sitting at the end of my bed in 2020 and thinking I was onto something. I was sad and playing these chords around and around made me feel ok. 'Half Between' could have easily become a Yep! song (another more folk-orientated musical project I play in) but I taught Jack the chords one afternoon and playing them together with two guitars just felt like the sweetest thing - so I knew it was gonna be a Fillmore track. Most of my songs on this record have relatively serious themes and I think 'Half Between' sets the scene for that. I must say I'm really glad Jack wrote some songs about pigeons and fruit to balance out my melancholic bullshit. I am also really glad Ella went to town with the strings and clarinet.

Heart Shaped Orange

Jack: I pointed my guitar, sampler and thesaurus at the indescribable. But in less than 100 words, I have not been able to adequately express devotion, love, passion, adoration, attachment or tenderness. I have been able to get my friends Seamus, Cat, Jim, Ella and James to play music with me for three years or so. That's something.

A Bit Too Much

Seamus: It's no secret we like to jangle. Strum some G, D and A minor7 chords on an acoustic guitar and try not to write a jangle-pop song, it's fucking hard. This one ended up being about the place where Jack, Ella, Cat and I grew up - Gadubanud Country in south-west Victoria. I was trying to unwrap some of the ways I think and feel about this place which I call home. I got about halfway there.

Keeping It Light

Seamus: Growing up with an older (and taller) brother I always relied upon Jack's hand-me-downs as a kid. My first electric guitar, some surfboards and lots of clothes all came to me once Jack outgrew them. Now that we are older this tradition continues, but it's a bit less one sided. Jack and I often hold onto each other's clothes, instruments and records for months (or years) at a time on semi-permanent lends. One such lend was a Yamaha RY10 drum machine Jack dropped to me for about eight months. On this little machine I conjured the stankiest beat I ever did hear.


Art II

Jack: This song is perhaps the oldest song on the record. It is pieced together from a live demo jam in my bedroom on one cold morning in July 2020. No one knew the song so there was a careful restraint not often seen by us. We added some finishing touches a year later and it sits as a reflection of the past and a glance into the future.

Popsonglove

Jack: Confused about love? Same. Feeling guilty, feeling free, looking at the billionaires as they look at me.

Deathboogie

Jack: I've often said this song is about murdering baby boomers in the ambition of loosening their tight grip on the property market. But that seems to harsh... Maybe gruesome death is reserved for the ones with multinational media conglomerates... The ones who live their own version of reality. The wet dream of young lefties.

Out Of The Blue

Seamus: 'Out Of The Blue' is kinda like the sister song and sequel to 'A Bit Too Much'. Another one for the jangle kids. It's about a lot of things (love, rose-tint crushes, detachment etc) but mostly it was a coping mechanism after they opened a second Coles at Northcote Plaza. It seemed very unnecessary.

Hope

Jack: I am Frank Sinatra, I am Roy Orbison, i am Dolly Parten and Kenny Rogers, I am Cyndi Lauper. I am Womack and Womack and I am Stevie Nicks. I'm playing a rock star. You give me hope.

Definite Definition

Seamus: I remember the day we came up with the name Makey Sensey. We were in my backyard trying to take a press picture next to the clothes line (a textbook dolewave shot). Somebody said something like "redacted due to insufficient memory" and I said "that no makey sensey". We took it from there. About six months later I wrote 'Definite Definition' and it all madey even more sensey.

Heading Down

Seamus: Jack was lying, this is the oldest song on the record, I wrote it in early 2019 on a hot day in a shoebox bedroom in Northcote. I was feeling some real hometown-coastal-nostalgia and I wanted to go for a swim. I got this song instead which seemed like a fair trade at the time. This was the last song we recorded for the album. Keeping in spirit we squished into a tiny space in Brunswick and recorded it live with our friend Sam Harding. Jack sat in a little cubicle and Ella was out in the hallway. It was the only song on the record we recorded live as a six-piece and I am happy that we did it that way. Mum said it's her favourite.


Johnathon Pidgeman

Jack: There are often myna birds, galahs, rosellas and pigeons conversing in my front yard. I assume they fantasise and roleplay as humans with their feathery friends. They pretend to go off to work, study books and have coffee and toast in the mornings. In this song, Mr Jonathan and his cat friends try to steal research material about a cure for dog allergies. However, they must face the ferocious human Jack, and his musical agents. This song was originally written as a collaboration with national geographic for an upcoming documentary series following the decay and destruction of urban pigeon culture in residential housing areas.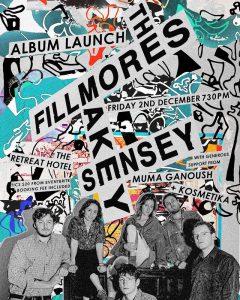 Makey Sensey
is out now via
Critter Records
- head to
critterrecords.bandcamp.com
to grab the album on limited edition cassette. The Fillmores are launching the album on Friday December 2nd at The Retreat Hotel with Muma Ganoush and Kosmetika - grab a ticket
here
.