Track by Track:
Platonic Sex - Grip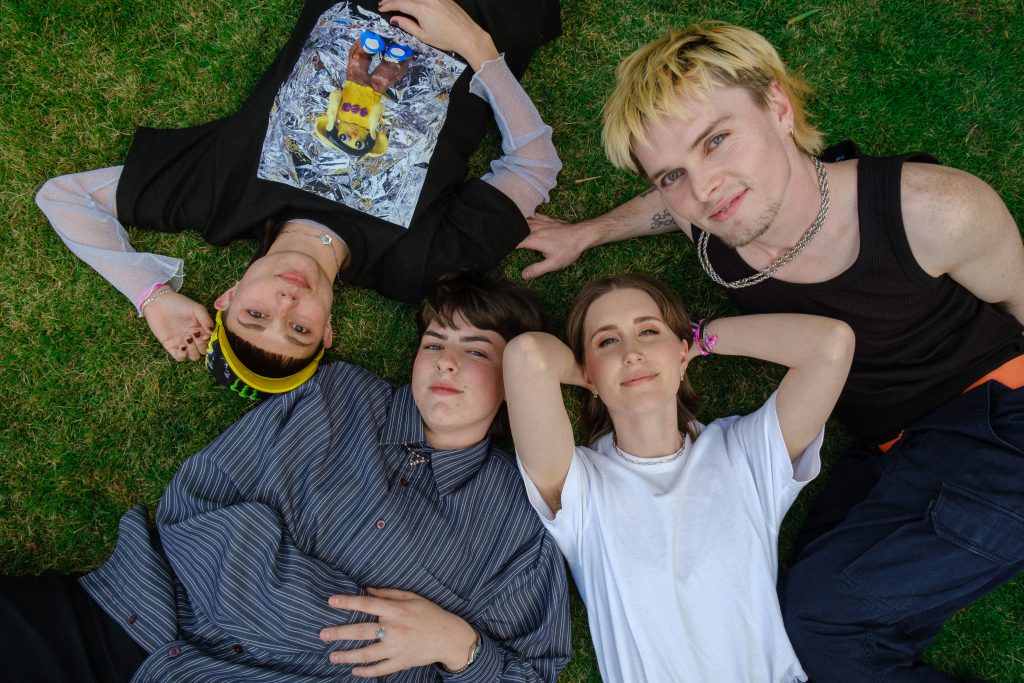 Alongside the release of their debut EP today, Meanjin/Brisbane indie rockers Platonic Sex have kindly walked us through each fiery and emotive moment that make up Grip.
Considering the EP is characterised by a sense of juxtaposition - as the press release elegantly puts it, the world of Platonic Sex is one where "joy and anxiety" and "toughness and vulnerability nestle side-by-side" - there's a remarkable level of assurance in the debut release from the Brisbane four-piece.

Across its six tracks and 22 minute runtime, Grip manages to sound turbulent, restless, vibrant and triumphant, often at multiple times within the same song. Opener 'Exhausted Competing For You' is quick to set the tone, marrying swarms of guitar jangles with an alt-rock groove and vocalist Bridget Brandolini's defiantly expressive voice; and tracks like 'Devil's Advocate' and 'Disappoint Another' follow suit with their bold instrumentation and straight-to-the-point hooks. At their mildest - as on 'Be There' and the opening half of 'Alright', Platonic Sex are poignant and enthralling - and when they let the song fully expand open, as on the forward-moving title track, there's a sense of catharsis that makes the band sound completely thrilling.

To help us dig into the new EP even further, Bridget, guitarist Jane, bassist Mikki and drummer Ryan have shared some insights on each track.
Exhausted Competing For You

Brando: When this relationship ended, it felt like I hadn't done enough to 'make it work' because I seemed less sad on the outside. But you have to trust your instincts when something's not worth it. Playing this song feels like a big expulsion of relief.

I loved filming the music video, because the energy on set was really communal and protective. Everyone was pretty drained towards the end of the shoot, but we ordered GYG and danced to disco music to energise us all for the final takes!

Mikki: I have to agree with Brando, filming the video for exhausted was such a fun and wholesome experience. It brought more meaning to the song for me and now I have so many fun memories from that day that come to mind whenever we play it live. 

Ryan: 'Exhausted Competing For You' is a track where I play the kit with all my heart and body. I am so grateful for what Platonic Sex allows me to express and embody as a musician and a person. 2022 has been exhausting and hearing the build up from the beginning of the track to the big tempo-change/crash-breakdown creates a certain feeling that I feel almost every day: working, pushing back and challenging my limits.


Devil's Advocate

Ryan: I dyed my hair red for the single art of this song. I had the hair for two and a half months, and during the first week, friends were walking past me at events, not realising it was me… It was a bit of an experience! 


Jane: 'Devil's' is cheeky. It's one of the songs that we play in our set that gets the most engagement. When I hear this song I imagine those annoying dudes in university tutorials who would use the term "Devil's Advocate" to say something really pig-headed. This song sums up these people so perfectly and if I had the confidence I have today I would have forced a few people in my past to listen to this song, haha…

Brando: "Don't they want to cry? I'd get so fed up if I had to be a 'tough guy' all the time."


Be There

Brando: This song means the most to me: it's about surrendering control and learning to support people through compromise, examining your own biases around mental health stigma and how they guide your ability to comfort and support loved ones. 

I have this innate protectiveness over my younger sibling. They live on the other side of the country, and I really struggled with not being able to be their "hero" and save them when they were really ill.

At the same time, it's really beautiful to have an adult relationship with a sibling, watching them grow into their own person. They're not a de facto housemate anymore, they're a fully-formed human, and a friend. You have to surrender the authority you used to hold over them, the impulse to say "If you just listened to me, you'd be fine!"

Mikki: 'Be There' offers a moment of rest in between the other songs. It's soft and thoughtful. I think it balances so well with the other songs on the EP and Brando's voice is heavenly to listen to in this.


Ryan: I usually play groove on the kit, but for 'Be There', I get some mallet-on-tom-and-cymbal action ~ it means I can play around Brando's vocals/guitar a bit more freely than usual. 

Disappoint Another


Ryan: This was the first track we released EP and I felt like it was the start of our current formation's journey together. I'm still so excited for what's to come, but it felt like we really levelled up, releasing 'Disappoint Another'.

Jane: This song is my favourite song to play off the EP! It's about coming out and challenging the fear of your parent/carers opinion: "Can you disappoint another?", I think this song is really relatable, because almost everyone who comes out has that concern around whether others will accept you. 

My grandma once told me, "you love who you love". Platonic Sex accepts you for who you are.



Alright


Ryan: I always used to say this was our sad-Coldplay song, I hope the band doesn't dislike me for writing this in words. But it's truly a powerful song, and I didn't have to play much for it to hit. The last chorus, o o f t. 


Grip

Brando: Writing 'Grip', I remember feeling like it was completely mortifying to have a crush, but looking back on it, it was so fun.

Ryan: This song has a couple of different meanings for me. When we first started playing 'Grip', the chorus helped me forget about my anxieties: it was rock music as therapy! The lyric "What am I panicking for? Nothing's gone," reminds me of a mantra I've heard: "The house is not burning down, you're safe". 

Now, after delving into the track and the process of filming our music video for it, I think it's been helpful in allowing me to feel gratitude for my relationships, and content with the way that love often leaves and re-enters our lives in different ways. It never truly leaves, it just changes forms.