Music / Premieres
Premiere:
Hannah Blackburn - I Want To Love You
Ahead of its official release tomorrow, today we have the pleasure of sharing a first listen to I Want To Love You, the stunning debut album from Naarm indie-folk songwriter Hannah Blackburn.
Following on from a string of teaser tracks released over the past year, Hannah Blackburn's long-awaited debut album finally arrives tomorrow, closing out the opening chapter of a songwriting journey that has seen her share some of the most enthralling folk-pop to come out of Melbourne in recent years. During this time, she's shared around a bio that tells us how her songwriting "weaves beautiful storytelling, melodies and honesty together", but what this doesn't reveal is how incredibly and carefully she manages to play with the nuances of emotion right across I Want To Love You.

Over the ten tracks on the album, Hannah effortlessly moves between sounding wistful and contemplative, to playful and to pissed off, with mostly just her velvety vocals and subtle guitar work to pronounce these adjustments. From the lulling melody and sharp, evocative lyrics of 'That Night', onto the rich waves of guitar and drums of 'In Our Wires', through to the constant and vivid pulse of 'Ugly', it's an album that expands and contracts around us - pulling us in closer with every moment of soft vulnerability while simultaneously knocking us back with the fierceness of Hannah's words and her powerful imagery.

Speaking about the album, Hannah shares "I started working towards this album in 2019 and initially felt like it would be tricky as generally albums aurally sound uniform, and I feel like my songs don't come together in that sense, so I leant into my love of storytelling, and pieced the songs together to tell a fluid story overall. Each song is a story of a different relationship, not always romantic, 'Elvis Presley' is about grief, 'Egg Song' is post-breakup, 'Ugly' is about a new relationship and having to stare at the places we try to hide that are newly exposed. The title track, 'I Want To Love You', was initially written about someone else, but then years after writing all the other songs, I felt like that song was actually a song to me, with the lesson that we have to nurture every part of ourselves before we can feel comfortable to let someone else love them. The song feels like it hugs all the stories and groups them together, hence it being at the start, then 'Ugly' is the release at the end. The exit into the world after the work has been done."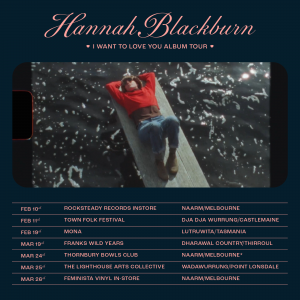 I Want To Love You
is out everywhere tomorrow - head to
hannahblackburn.bandcamp.com
pre-order the album on 12" vinyl. You can catch Hannah performing around Victoria, NSW and Tasmania to celebrate the release.