Music / Features
Shitty Bands That Laugh -
Get to Know Albert Street
Following the release of their debut single 'Twice Before' last week, we got in touch with Albert O'Loughlin, the frontman of emerging jangle-pop crew Albert Street, to get the lowdown on the new band.
While 'Twice Before' comes as a debut release, it's instantly clear from the relaxed self-assurance of the track that the members of Albert Street have definitely been around the block a few times before. As it turns out, the group is made up of local acts The Oh Balters, Girl Germs and LVIV, and if 'Twice Before' is anything to go by, the new project is going to be a lot of fun. Overflowing with 60's pop smarts, the track is all bouncing grooves, charming boy/girl vocals and effortless hooks, and suggests some very exciting things are to come.

To learn a little more, we had a chat with vocalist/guitarist Albert to find out every we need to know about Albert Street.
TJ: Hey Albert, want to introduce yourself and the rest of Albert Street to us?
AS: Yes! We're made of Luke, Layla, Chris and myself. I'm not quite sure how to describe our music - I think jangly alt-rock, although I also like to see ourselves as a post-punk band seeing as Luke and Layla both come from punk backgrounds. 
Each of you have come together from a bunch of other bands, but it seems like this group has formed pretty organically - what's the story?
Well Chris and I came from
The Oh Balters
, who are taking a break while the others are galavanting in Europe! So I was trying to start a new band with all new people, but I quickly realised that I like playing with Chris the most, so he slotted in easily. I think partly because I'm not afraid to tell him what to do. Then I met Luke at a bar and he was keen from the very beginning, and Layla too - although she'd forgotten who I was until she arrived at the first jam.
We all get along really well too, which I love! I remember being afraid that if I start a new band, it might be one where everyone's a bit too serious. I think I'd rather be in a shitty band that laughs all the time than in one that plays to thousands but every member is boring as hell.
You've just dropped your debut single 'Twice Before' - tell us a bit about the track.
It's simple. It's about losing love but enjoying the game. FBi Radio premiered it the other day and they gave some definition on what it means and got it 
completely
 wrong, but I guess you can't wholly define things like that. And it's good to have those songs that can be interpreted in different ways. I guess it's kind of tongue in cheek as well, which I think is usually the case with songs like these. They're the types of songs that I love to write the most - made for fun.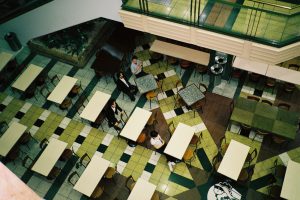 One of my favourite things about the track is its ramshackle charm - was that always the plan or did that just happen?

Haha - I might describe it as ramshackle cliché. But, yes the style of the words was definitely planned. The thing that keeps the song moving for me is the buoyancy behind somebody saying "I've had two failed relationships and this could end just the same, but who gives a shit!" 

And we wrote it about a week before we were due to record. Then didn't finish it until a couple of days before. But I knew it would work because it's so simple and meant to be jangly. Any kind of over-doing would be detrimental. 

We've mentioned Albert Street formed from a handful of other projects. How does this music fit in amongst the other stuff you're all working on? Are you writing music with the same kind of ideas in mind as the other projects, or is this new ground for you?

I guess any kind of songwriting develops naturally, so no, not really. It's all coming from the same place. There's certainly an element of intent when you are writing, but I don't think it has that much of an influence on style. That's how I see it anyway. These songs are different to ones that I've written in the past, but not because I thought "new band, new ideas." They're a reflection of me and songs evolve like people do I reckon. But it will be interesting once my other band is back, to see what songs fit where. 

Reckon we'll be seeing Albert Street in action any time soon?


Definitely, a few of us are out of the country now too! Seems like everyone wants to get away from Australia. But we're thinking about venues for a launch in Jan once everyone's back.

What's on the cards for Albert Street in 2020?

I think the plan is to do the same sort of thing as we did the last couple of months. Just book the gigs and the studio time, then there's a bit of pressure to get on with it. Everyone's eager to play and play, and recording is always fun. So I guess just to keep moving. Might try find a synth player in the meantime!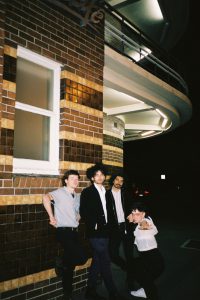 Listen to 'Twice Before' above, and keep up to date with Albert Street by following them on their socials.