Regulars / Homebodies
Homebodies -
Staying In with Juliette Lalli
While our days in lockdown keep ticking by, we've been taking a moment to check in on some favourite locals to find out what they're doing with their time in isolation.

Juliette Lalli is a venue booker and festival programmer. Over the past few years, she's been at the helm of the Retreat Hotel's music curation, turning the pub into a haven for Melbourne's most exciting and diverse emerging acts, while simultaneously looking after programming for the stunning Grampians Music Festival. She also drums in local mystery band Tripswitch and moonlights as an uncertified baker.
With a little more time on her hands now that live music has disappeared, here's what Juliette's been doing.


What are you reading?
I'm reading lots at the moment, maybe more than I ever have which has been keeping my brain busy while there's no gigs to book or festivals to curate. Currently I'm really nerding out with everything food related and reading On Food and Cooking by Harold McGee, which is an encyclopaedia of food science that's kind of referred to as the bible of food and cooking science in all the other food books I've read.


What are you listening to? 
I'm trying to listen to a different album on my walk everyday and walk until the album is complete, no matter how long or short. My favourites in the last little while have been FKA Twigs' MAGDALENE, Summertime! by The Drums, Rolly Nice by The Finks and The True Story of Bananagun.
Also I get a cheeky sneak peak of everything Spoilsport Records at home because
my housemate
runs the label. 
Anything happening in the kitchen?
Everything. Cooking and planning meals and dreaming about food all the time. 
My house has been sharing fresh fruit and veg boxes every fortnight or so and my favourite thing to do on delivery day is put everything out on the table and plan dinners for the week to come. I think our collective favourite dinners have been
Eggplant and porcini meatballs with fresh pasta and a rich tomato sauce
and lots of Mexican with freshly made tortillas using Masa Harina from
Casa Iberica
in Fitzroy. Also, my sourdough starter is coming up to its first birthday and has been bringing me loads of joy in this wacky time.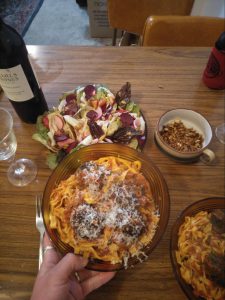 What's the worst isolation idea you've had so far?
We had a 70's dinner party last week and I tried to make layered vegan gin and tonic jelly with Agar (seaweed gelatin substitute) and fruit suspended in the layers and it was a bit of a double disaster. First attempt didn't set at all so we ended up adding gin to very non vegan aeroplane jelly and were too impatient to wait for it to set completely so it was a very sweet, very alcoholic green sludge on a plate in the end. Yum but also so yuck.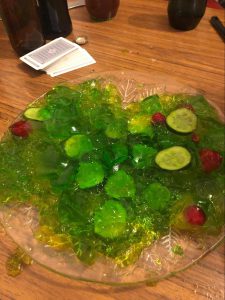 Also, always cooking up new Tripswitch ideas.


What's something keeping you inspired?
I read this great book recently called Women on Food which is a collection of interviews, essays and short stories written by and about women in the food industry. That coupled with the fortnightly fresh produce boxes have inspired me to cook with different ingredients and get out of my European food safe haven. 


Best ways to support the community at the moment?
Keep listening to local music, buying records, listening to albums all the whole way through to really appreciate all the work that goes into making them and dreaming of the days when we can go to gigs and festivals again.
Although
The Retreat
and
Grampians Music Festival
are on pause for the moment, you can keep up with everything happening in Juliette's world by following her on Instagram below.