Regulars / Homebodies
Homebodies -
Staying In with Spoilsport Records
While our days in lockdown keep ticking by, we've been taking a moment to check in on some favourite locals to find out what they're doing with their time in isolation.

Spoilsport Records is run by man-about-town Sam Lyons. Between his own musical commitments - a member of House Deposit, Eggy, Jarrow, Candy and Tripswitch - Sam spends his spare time slinging out new releases from his Fitzroy North bedroom, his Spoilsport banner now becoming a hub for some of our city's best DIY music. Originally beginning as a small-run tape label that's now spreading its wings even further, the past twelve months has seen Spoilsport release everything from off-kilter post-punk to radiant indie-rock and lo-fi Australiana. Word is the end of the year's going to be just as eclectic.
Here's what Sam's been up to at the moment.


What are you reading?
Menus on food delivery apps.


What are you watching?
I've really gone head first into the world of sports. Watching footy, soccer, basketball, and even cornhole. 

cornhole, /ˈkɔːnhəʊl/, a game in which small bags filled with dried kernels of maize are tossed at a target consisting of an upward sloping wooden platform with a hole at one end.


What are you listening to?
I've fallen head first into another deep dive of The Beatles. A listen to every album, every day kind of thing. It's ruining my life a bit but it's all part of the journey. My housemate James "hates The Beatles", so I've been convincing him to try and listen through all their albums start to finish.
In terms of local stuff the new Gregor song is incredible. Also very keen to hear the new Thibault record out this week. Also the bands on Spoilsport... yikes nearly forgot to mention that. Released a few records since lockdown that you can go check out.


Also, Tripswitch first mixes.
Anything happening in the kitchen?
I've definitely been cooking and trying a lot more. Our house has started to get veggie boxes from local shops and distributors. So we've been doing some great communal meals using the random assortment of vegetables in each box. My favourite has been these eggplant and porcini mushroom "meatballs" w/ fresh pasta. In terms of things happening in my kitchen though, my
housemate Juliette
has always been a big baker. But I guess with more time the output has gone up, meaning more things for me to try. To see what James has been cooking,
have a look at this article
.
What's keeping you busy?
I'm still keeping busy with Spoilsport stuff, a few more releases to announce for the rest of the year that I've been organising. Super excited to announce those soon. But also taking some moments to not be busy, relax and just rest has ultimately been more important to me than keeping busy.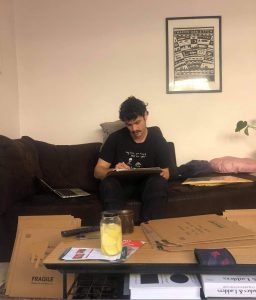 I've also been having baths until the water goes cold and I sit there for an extra half an hour. Really takes a good chunk out of the day.
What's the worst isolation idea you've had so far?
I've got three.


1. Eating too much of the gin and tonic jelly that Juliette made for our 70's themed dinner. Enough said.


2. Buying
AFL Evolution 2
for PS4 on release day and having to sell it for half the price on Facebook marketplace the next day because it was so bad.
3.
This
.
What's something keeping you inspired?
Just talking to my friends, the projects they're undertaking, the music they're making, the food they're cooking. Everyone in the vast circle that we are in, are all very talented. I think that's been really on display lately. It's been nice to feel like I'm looking at that from a distance for once, rather than right up next to me. It's definitely keeping me inspired.
Also inclusive of that is being in a house with two people in that community, being able to still exchange ideas with them and see what they are working on. Turning our creative needs to house related activities like cooking and gardening together.
Best ways to support the community at the moment?
Buy a band's merch. Listen to community radio. Even just sharing music you're enjoying at the moment by local acts goes a long way. Be active in the community if you have the means.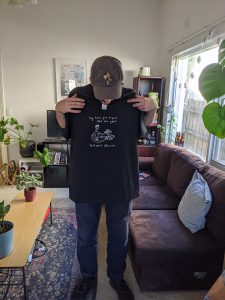 Dive into all the great music coming out through Spoilsport Records at
spoilsportrecords.bandcamp.com
, and keep up with what's next by following them below.