Music / Features
TJ's Top 50 Tracks of 2021
#30 - #21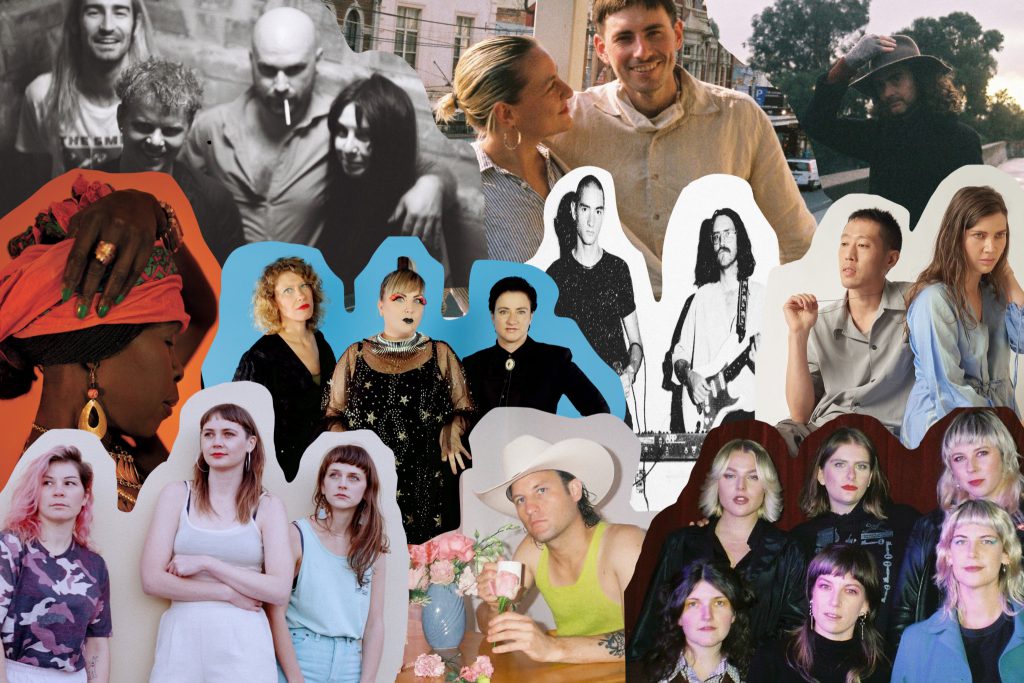 Past the halfway point and getting towards the pointing end! Here's the next batch of our favourite tracks of 2021, from #30 down to #21.
30. Lachlan Denton & Emma Russack - 'POB'
The two best songwriters in Melbourne (IMO) came together again to release the best album of the year (IMO) and maybe their best record yet (IMO).
Something is Going to Change Tomorrow, Today. What Will You Do? What Will You Say?
is the best album title I've ever heard and 'POB' is the best song on the album because it was the lead single and it has a videoclip. In all seriousness, this album is masterful, joyous and a lovely listen, and 'POB' is "BOP" spelt backwards, make of that what you will.
Seamus Fillmore (The Fillmores, Yep!)
29. Cong Josie - 'Margarita'
One of the more distinctive Naarm releases of 2021 was that of Cong Josie, the extravagant alter-ego of No Zu frontperson Nic Oogles. Completely indulgent and dangerously hypnotic, Cong Josie's debut album
Cong!
is a cocktail of throbbing bass, knife-sharp synths and unsettling vocal hooks, all tied up with a reflection on masculinity through the lens of this hedonistic rockstar figure. Could've picked any of a number of songs from
Cong!
but 'Margarita' has made it onto my driving playlist, so if that's not an indication of which was my favourite then I don't know what is.
Francis Tait (Quality Used Cars)
28. MOD CON - 'Ammo'
When 'Ammo' first came out I swear every time it came on the radio I was nearly home and had to do a couple of blockies to get the whole song in before I parked (windows firmly up so I didn't scare pedestrians while screeching "IF YOU WANNAAAA"). The melody is genius the way it keeps you hanging on with so much tension while the drums are so manic. Bang bang. What a track.
Grace Gibson (Rack Off Records, Future Suck, Blonde Revolver)
27. HTRK - 'Kiss Kiss and Rhinestones'
Straying from their industrial, no-wave roots,
Rhinestones
saw HTRK foray beautifully into considered and softly strung gothic country. With a sound still drowning in sadness and loss, 'Kiss Kiss and Rhinestones' was a particular standout from the record, best encapsulating the group's stripped-back, brooding transformation. Atop sparse arrangements, the iconic whisper of vocalist Jonnine Standish crowns the track, celestially unveiling the allure, artistry and sonic desperation HTRK conjure.
Daniel Devlin (Heir Traffic, Delivery)
26. Blonde Revolver - 'Red Ruby'
The commanding opening track to Blonde Revolver's self-titled debut EP, and the first release from Rack Off Records, is a tale of a deadly femme fatale that's braced by its tight arsenal of wiry guitar chords and anthemic gang vocals that rapidly dart around the propulsive rhythms. Like their energetic live shows, it's a punchy post-punk powerslam that's guaranteed to make you sweat -‌ a fine introduction to this new punk powerhouse.
Joe Massaro (Paperface Zine)
25. Ajak Kwai - 'Let Me Grow My Wings'
South-Sudanese born singer-songwriter and passionate voice for refugees in Australia, Ajak Kwai released some of the most joyous and enriching music of 2021. Combining her South-Sudanese roots with a Naarm influence (and now performing with a shit hot local all-star band), Ajak Kwai's first album in four years
Let My Grow My Wings
is a shimmering, all-encompassing journey through what they describe as "modern South-Sudanese rock". On the album's title track, performed in English and Ajak's native language Dinka, Ajak Kwai expresses her longing for the people of her community to be given an equal share of opportunities in Australia and the chance to grow and prosper. For four and a half minutes, Ajak's message spirals around an angular riff and heavy groove, to make for one of the most joyous choruses you'll here this side of 2020. I'm sure there's a whole lot of musicality going on here, but it comes off sounding completely effortless. Oh and the guitar solo is a real face melter too.
Francis Tait (Quality Used Cars)
24. Dr Sure's Unusual Practice -
'Infinite Growth'
Much of Dr. Sure's Unusual Practice's latest album
Remember The Future? Vol. 2 & 1
centres around the destruction of the planet, the disastrous and long lasting implications of the capitalist system, backed by the band's supercharged brand of post-punk mayhem. At the heart of 'Infinite Growth', the album's zigzagging opening track, is Dougal Shaw's incisive and crafty wordplay, that takes the language of capitalism (ideas of balance sheets, portfolios, GDP…) to reframe each notion. It's miles away from "if you can't beat them, join them" though, and instead Dr Sure builds a satirical caricature with an undercurrent of hope amidst the flurry of thrilling punk madness.
Will Brussen (Trouble Juice contributor)
23. Laughing Gear – 'New Estate'
Although there's undeniably no shortage of nervy and eccentric post-punk bands floating around Melbourne at the moment, few local acts manage to make frustration sound as invigorating as Laughing Gear do on their debut album
Freak Lemons
. With its blend of unrelenting electronics with an impenetrable punk energy, and tied together by vocalist Bryce Sweatman's confronting howl, 'New Estate' was a frenetic and compelling highlight that served as the perfect entry point into Laughing Gear's haphazard world.
James Lynch (Trouble Juice editor)
22. Plaster of Paris – 'Internalise'
Plaster of Paris is a band close to my heart; they're one of the reasons that Psychic Hysteria exists as a label at all. But I'll leave the bias at the door for this one. I've been waiting for yonks for their album
Lost Familiar
to be released, and even though I have heard these songs performed live countless times, the recorded version of 'Internalise' stops me in my tracks every time I hear it. It's my favourite song of theirs, and I can distinctly remember the first time I heard them play it upstairs at the Grace Darling some four years ago.
The track is timeless, but is also a refreshing take on jagged and rhythmic post-punk. Sarah's skill as a guitarist is on display here; her restraint and concept of rhythm and texture is a rare thing and is genuinely beautiful. She also knows where and when to allow space, playing to Nicola Bell's rhythms which, while appreciating the space, keep the song driving forward with just the right amount of disco in the hi hats. But it's Zec's lyrical genius and spellbinding vocals that shine through in 'Internalise', as she dances in and out and around the rhythms of the band. There's a sneaky synth droning in the background, too, which is a rare treat live but it adds some depth to the track on the album. It's a great introduction to what is a phenomenal LP, but also stands alone as one of the best singles of 2021, and I reckon one of my favourite songs of all time.
Kurt Eckardt (Hearts and Rockets, Psychic Hysteria)
21. Michael Beach – 'Irregardless'
Every time I open Spotify I see the iconic artwork of a bloodshot eye staring back at me. I have listened to this record so many times. The charging rhythm of the opening seconds make it the perfect beginning to a widely diverse album. Just when you think this relentless instrumental won't end, it drops into an intensely emotional two chord back and forth rock ballad, before speeding up for the uplifting chorus. This song is all over the place, but the chaos is so well considered that it's undoubtedly my pick for the year.
Sam Harding (Mug, Tiny Town Records)