Music / Features
TJ's Top 50 Tracks of 2021
#20 - #11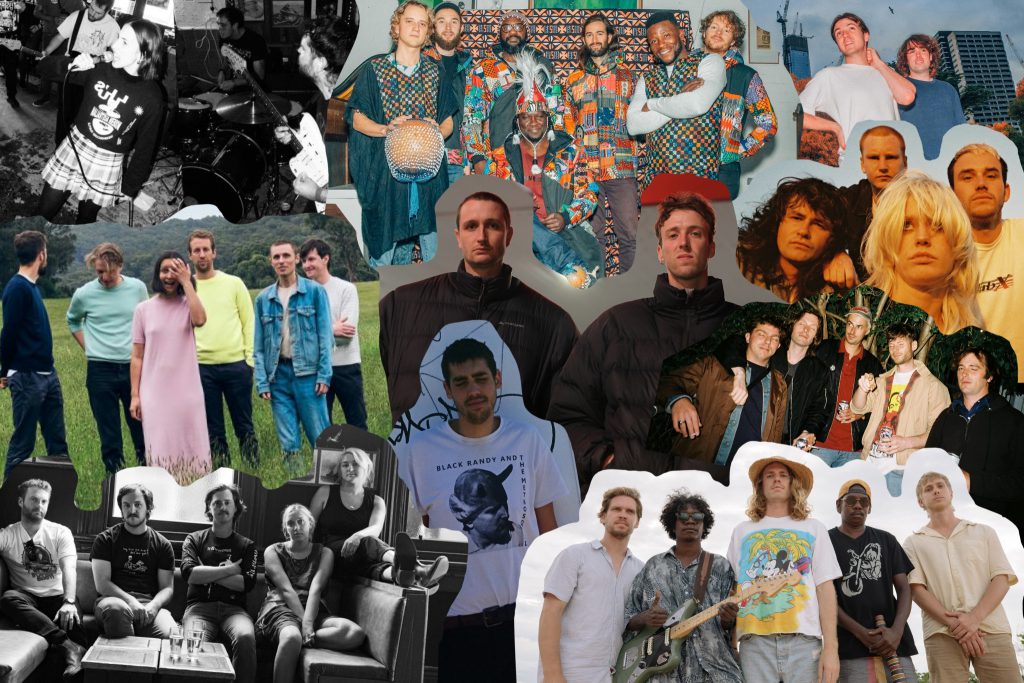 Not long to go now. Here's the next round of our top tracks of 2021, from #20 down to #11.

Stay tuned for the final countdown tomorrow at midday - see you then!
20. EXEK - 'Several Souvenirs'
Having spent the past half decade turning heads with their brand of illusive and esoteric post-punk, the first single from EXEK's 2021 release
Good Thing They Ripped Up The Carpet
came as a bit of a curveball. While still completely loyal to their signature mishmash of punk, dub and krautrock, 'Several Souvenirs' doesn't feel quite so deconstructed (a term the band are more than familiar with). Instead, the track invites us deep into the band's intoxicatingly dense sonic universe, and beneath the murky, drugged-out layers is a shapeshifting pop song, rich with delicate vocal harmonies, blooming synths and meandering guitars that swirl together gloriously atop its heady groove.
James Lynch (Trouble Juice editor)
19. Good Morning - 'Country'
Sometimes I hear a song and can't stop imagining it being played in the last scene of a movie ie. '
Love Performance
', '
Wrecking Ball
', '
Be A Bee
', and '
Diary of a Rose
'. 'Country' has the same effect on me. It conjures up seemingly incongruous emotions; it's beautifully forlorn and uplifting, simple and complex, fluid and inert. It's like stepping on a flat moving walkway at the airport and moving somewhere without really realising it. Magic!
18. Quality Used Cars - 'Spiral of Lies'
The debut album from Quality Used Cars was a welcome little surprise in 2021. Appropriately titled
Good Days/Bad Days
, it offered a smart and endearing mixture of garage-pop and alternative country. The twanging and exhilarating 'Spiral of Lies' was a particular highlight, Francis Tait's wheezing and forthright Australiana vocals embodying the sense of desperation that comes with spiralling into a web of deceit.
Conor Lochrie (Trouble Juice contributor)
17. Shove - 'Chopper'
If you haven't yet heard Shove's debut EP, that honestly sucks hun!!!!! Shove it in your ears right now!! We've been treated to five hot as hell tracks bursting at the seams with angst and power (so hot, like a perfectly toasted crumpet). On 'Chopper,' the first single from the debut EP and TJ's fave, Bella's (angelic/sliving/boss AF) vocals get you in a noogie from the get go, threatening to not let you go for one minute and 37 seconds of total chaotic bliss. Not to mention the epic musical eruption from the band that makes you wanna roll the windows down and ride the horn into the sunset. What a bloody treat it is to be gifted these utter punk hits. SHOVE 4EVA!!
Isobel Buckley (Rack Off Records, Blonde Revolver)
16. Alien Nosejob - 'King's Gambit'
Bursting off the B-side of their fourth record
Paint It Clear
, 'King's Gambit' is a three and a half minute synth-driven delight from Alien Nosejob. The track proves a high-point from their latest effort, bringing a familiar sound from songwriter Jake Robertson's back catalogue yet entwining it with sinewy melodies, a strong vocal performance and a sense of whimsy that is often a little more hidden in previous work. Despite having released four albums (among a string of 7 inches) in three years, 'King's Gambit' is a sign that Robertson isn't even close to running out of puff.
Jack Cherry (Vintage Crop, Dragnet)
15. Ausecuma Beats - 'Sallier'
As Ausecuma Beats' name suggests (which amalgamates the four countries/regions that their members come from into one word), the nine-piece powerhouse thrive when each of their backgrounds and musical experiences can blur together into one frenetic and vibrant union. On 'Sallier', the opening track of Ausecuma Beats' second full length album
Musso
, this effect hits with full force. Instantly placing listeners within a blur of inspired and unrelenting grooves, we're dunked amidst a swirl of vibrant balafon playing, exuberant horns and crafty guitar work, all while the track's joyous group vocals entice us in to join the fun.
James Lynch (Trouble Juice editor)
14. Cool Sounds - 'Crimson Mask'
Arguably the slickest sounding record on this list, Cool Sounds returned in February with
Bystander
, a free-wheeling Velvet Underground tinged banger that helped soundtrack the end of a great summer. An undeniable highlight from the record was single 'Crimson Mask', a track pairing the best of singer Dainis Lacey's outré sense of humour with one of the band's tightest and well polished performances thus far. Portraying a suburban dad obsessed with wrestling and classic rock, the track's unique lyricism and uplifting Hey Jude-esque outro made it one of the most memorable tracks to come out of Melbourne this year.
Daniel Devlin (Heir Traffic, Delivery)
13. Skydeck – 'Dogshot'
Following on from their 2019 debut
Eureka Moment
, Skydeck returned this August with
Coupon
, a collection of idiosyncratic pop loaded with clever hooks and surreal twists that sounded equally indebted to lo-fi punk and bedroom electronics. Opening track 'Dogshot' was an instant highlight, with its surging chord progression, glistening synths and Dom Kearton's acerbic wordplay. Fully anchored by Skydeck's irreverent performance crossed with the duo's undeniable pop-sensibilities, it was a track that kept us strangely captivated for its entire runtime while leaving us feeling just as paranoid as the song itself sounds.
James Lynch (Trouble Juice editor)
12. King Stingray – 'Milkumana'
Although following in the footsteps of family members Yothu Yindi, while also carrying the torch lit by bands like Warumpi Band, No Fixed Address and Coloured Stone, King Stingray stole the limelight this year with a sound that was very much their own. The word fun has been thrown around for their self-described "Yolŋu surf-rock" style, but on 'Milkumana', King Stingray show how playful they can really be, blending a radiant groove with elements of disco and reggae and some exhilarating group vocals mostly sung in the language of Yolŋu Matha. With two faultless songs released in 2021 it was a tough ask to decide between them, but it was universality of 'Milkumana's grooves and its powerful message that made it an unstoppable highlight.
Will Brussen (Trouble Juice contributor)
11. Amyl and the Sniffers –
'Guided By Angels'
Comfort To Me
was a huge release by loved local heroes Amyl and the Sniffers and with their first single 'Guided by Angels' you wouldn't expect anything less. I feel like this song totally encapsulates the, for lack of a more appropriate word, energy of a live Amyl performance which we all know is just soooo good. The driving and relentless pure power in the song is just contagious… I'm not one to work out much but I can verify when this comes on I go twice as hard on the treddy so highly recommend adding this to your gym playlist for sure.
Rebecca Allan (Delivery, Blonde Revolver)