Music / Features
Delivery World Domination -
EU/UK Tour Diary (Part 2)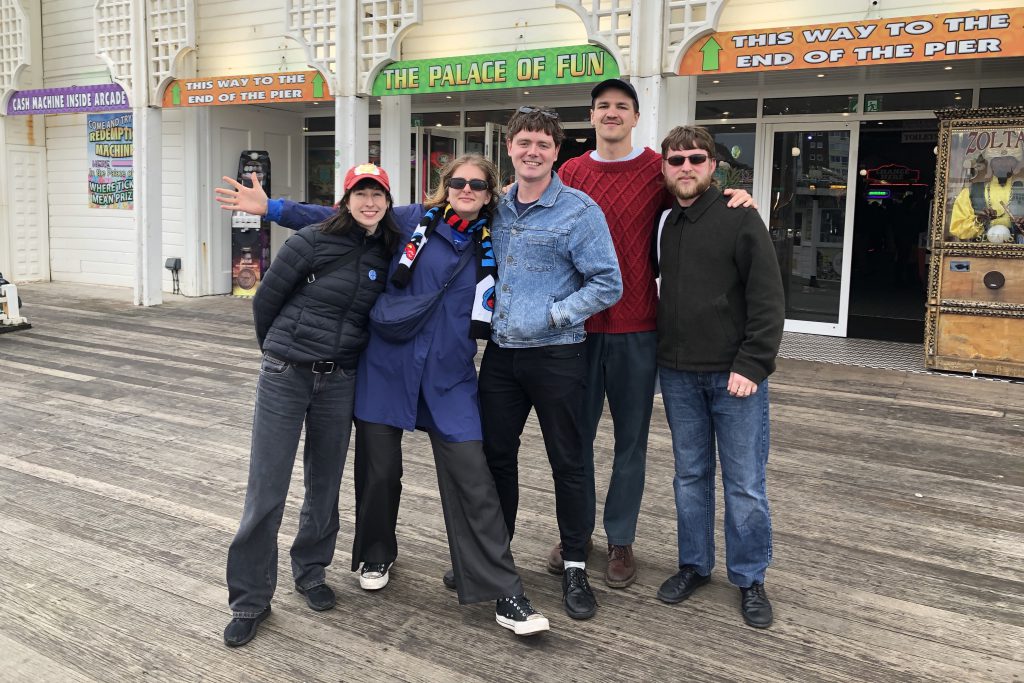 Delivery's plans for world domination continue, from Stonehenge to Leipzig! With bias on our side thanks to TJ's editor at the helm, we'll be sharing our tour diary to keep track of the wild times on the road.
Day 6
Bec: We get up at Goda's house and Lisa and Goda have picked up the van and ingredients for a big breaky, what a dream. Nine of us squeeze around the kitchen table and tuck into the feast including Glaswegian specialty potato scones (Lisa had been hyping these up since I met her). I cannot lie, they weren't that good haha but served their purpose. Feeling very full and fuelled up for the day we head into town to pick up our records and gear. Packing the van has been a bit of a headache so far so today we decide to figure out the perfect arrangement and get photo evidence for future use. Chores done, we head back to spend a little extra time exploring Glasgow, walking up to the uni and through the park classic sights. Before we head off, we decided to grab some meal deals to keep us going for the drive ahead. In the most rogue decision, James decides his snack will be boiled eggs… Safe to say that boiled eggs were vetoed from the van immediately. The trip consists of a little stint of riddles and chats about our favourite years for music.

We are now in Leeds and arrive at the accomodation for the night. The guy on reception is a legend - he mentions free coffees and complimentary breakfast and we now like him even more. After settling in we wander down the road on search for food hoping for something healthy and end up at the band's favourite spot Tesco, although a meal deal was not gonna cut it for dinner. A few veggies and snacks are purchased for the future but tiredness and hunger leads us to the nearest kebab/pizza joint. I am scared half to death when placing my order as a man at the end of the bench starts screaming, it quickly becomes apparent it is not at me and at the TV playing the Manchester United game behind my head. I'm not sure anyone was too focused on working that night but we ended up with the goods. We head back to the hotel, eat and fall asleep with the lights on and washing machine going. I guess you could say we were pretty buggered.
Day 7
Bec: Wake up after probably the best night's sleep we've had so far - black out blinds were a godsend at this point. Back to Tesco for some oats and fruit (although can't say no to a couple cheeky pastries from the complimentary breaky). Feeling relaxed and the weather being pretty grim outside, we decide to cough up some extra coin for a late check out then indulge in our first round of washing at the local laundrette. Vibes are high and we leave with clean clothes.

We decide to head straight to tonight's venue Hyde Park Book Club - props to them for the easiest load in of the tour so far. Since we have some time to kill we used it as an opportunity to organise our merch, with Sam leading the way, helping us do it according to the elite Soundmerch standards. Legend Ben the booker enters and beers are served. We head down to soundcheck and afterwards, to our surprise, we walk into the bar and see our mate Dave (that we met at Rutland Arms) again… can't remember what band shirt he was wearing this time but great to see him again! Mother Said and Volk Soup put on some energetic punk sets and we are ready to rock. Post-set, we efficiently pack down as we have a two hour drive ahead of us to our AirBnB in Coventry. In a team effort we all try to stay awake through the whole ride in camaraderie although I think my eyes may have closed a couple times… anyway we make it safe and sound and all pass out immediately.
Day 8
Bec: After a long night we decide big breakfasts are in order and find the nearest cafe - The Big Banger Cafe. The name does not lie - breakfasts were big but I cannot comment on the bangers unfortunately. Feeling full and maybe a little sick, we head off to London. We drive around for a a bit too long looking for a carpark, before we finally concede and go back to the first place we tried and pay for the most expensive park of all our lives.

A quick freshen up and we head off to The Shacklewell Arms. Post-soundcheck we decided to treat ourselves to Mexican and margs though 2 for 1 cocktails and five people meant a long island iced tea to share was unavoidable… Sam called it best meal of the tour so far, and we are back off to the venue in high spirits. We arrive and see the Shacklewell Arms getting busier, nice to catch up with lots of crew! We also got to meet James from Division PR which was a treat after only meeting via zoom and emails, guy is a legend. Play the show, rocked it and had lots more fun hanging out with everyone. Was great to see Maria from ES band and Tom Lynch again…
Day 9
Bec: Day 9 begins with bagels from apparently the best place in London. They were pretty good but no New Day Rising. We pack up to head to Bristol but can't leave London without a quick trip to Abbey Road. Sam is quietly losing his mind about this. Get a pic at the crossing which of course is a bit embarrassing but basically mandatory, have a quick look around soaking up the rock 'n' roll history then hit the road. Jas gets us out of the the hustle and bustle then Lisa takes the wheel for the first time.

We safely arrive at Travelodge with just enough time for a quick drink at the hotel lobby which hosts potentially the worst bar in Bristol. Happy hour on, warm beers served, it's all part of the experience I guess… Since the beers were warm anyway and our parking was nearing expiry we head to the van for a few of our own warm beers. Off to Exchange and after a tricky load in, we are delighted to see the Fruit Tones crew who we haven't seen since Manchester. A few days had felt like forever at this point haha.

A quick kebab at Best Kebabs while Fruit Tones soundcheck, then the rock show begins! Fruit Tones do not disappoint. The show ends and we unload quickly so we can enjoy some beers at the bar up the road with Fabian, Pat and Fruit Tones. Somehow the night ends back at Best Kebabs - what can I say? Sadly we say goodbye to Fruit Tones for now but hopefully we get to see them in Melbourne soon!!
| Jas enjoying the sights of Glasgow | Kebab/pizza shop/sports bar |
| --- | --- |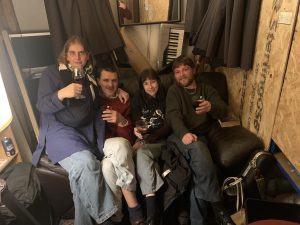 | The Big Banger Cafe | 2 for 1 cocktails in London |
| --- | --- |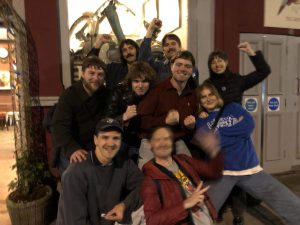 | Delivery at Abbey Road | James and Sam soaking it in |
| --- | --- |
Day 10
James: We woke up feeling a little worse for wear at 7.50am after an accidental party night, but Bec and I got moving pretty quickly to put some coin in the parking metre before 8am. Since we were up, we decided to hit the hotel buffet breakfast, continuing a hot streak of semi-disgusting but equally awesome English breakfasts. The food didn't quite settle though and the hangover started to kick in, so once everyone else was getting up I ended up back in bed for another hour - oops.

We rolled out of the hotel around midday and hit the road for Brighton. We had time on our side, so we made the call the check out Stonehenge. After a couple of hours of driving, excitement levels were up and we cruised past those magical rocks. Conspiracy theories were discussed but no consensus reached - further investigation must be conducted! Jas parked the van in a ridiculously tight spot once again, and we rolled up to the info centre to dig a little deeper, only to be told we'd have to buy a 26 pound pass to get the inside scoop. The UK top dogs clearly didn't want Delivery sniffing around, but they couldn't stop us making the trek on foot. An hour later we'd all got our step count up and seen the rocks from behind a fence reserved for non payers. The first of much gatekeeping ahead of The Great Escape this weekend!

Back in the van, we cruised towards Brighton and stopped for a late lunch at Salisbury, trying out Wetherspoons for the first time of the tour. I think everyone was into it. Onwards again and we arrived in Brighton around 6pm or so, checked into our accommodation and immediately felt the dread of being yet another band at The Great Escape… lanyards were running wild and the smell of schmoozing was in the air! Bec, Danny and I grabbed a beer from the off license and took a stroll around the town, before linking up with the rest of the crew at a cocktail bar. A couple of bars later, Jas, Sam, Dan and I made our way to The Fiddler's Elbow where we'd be playing tomorrow, and caught Public Body's set. Sam and Dan headed off and Jas and I tried our luck at a bit of networking, and after a couple more drinks, we were led by some crew to the nearby club. Fortunately, Subway stole my interest and I peeled off for a 6 inch before hitting the hay.
Day 11
James: Another slow morning, but eventually the whole crew were up and at 'em! First point of call was another big breakfast at a classic British cafe - important fuel for a day of rocking. Back home for a sec before heading off to the Brighton Pier for a photoshoot, a couple of arcade games and a brief catch up with booking legend Sam (although Delivery could only stand out the front of the pub because we don't got the lanyards). The J Man was off doing some other important stuff, but went for a legendary run to meet us in time. Post chats, we rolled back to get sorted for our first show of the weekend, and hit The Pipeline around 5pm to check out the venue and hang out with some crew - shout outs to Sam, Alex and the Public Body rockdogs. 8pm rolled around pretty quickly, and we had our first crack converting the industry heads of Brighton onto the sounds of Delivery. 30 mins later and Jas was shaking all the appropriate hands.

A couple more drinks, a quick chip break and we ventured over to The Fiddler's Elbow for our second set of the day. We had a bit of time to kill before our 11.30pm set, but vibes were pretty high in team Delivery so that simply meant more time at the bar and catching up with some local crew! By the time we were ready to hit the stage (or floor rather), the Fiddler's Elbow was looking like a bit of a bomb site. Once all the spilt beer was dried off the tangle of leads around the band around, we got set up and realised one amp wasn't working. The clock was ticking, so Jas and I were full power mode and ran back to the van to grab a spare. 10 mins later we were back - I didn't realise how quick Jas could move under pressure. I was slightly sweatier than I'd usually want to be for a set, and the band were generally a little drunker too, but the show goes well and the crowd seems into it. A bunch of friends from home made it down to the show too, so we get to hang with the CIVIC and Coffin crew briefly, before CIVIC rip into their set and send the crowd totally mental. Seven or eight hours of beers was catching up with us though, so once CIVIC finished up we made a move home (via Subway obviously) and crashed hard.
Day 12
James: Who would've thought - another slow morning. I think by the time we were all up it was well past midday, but the rest was well deserved I reckon. From his bunk, Danny tells us that no matter how much he sleeps, he'll always be exhausted. Time to soldier on! We all do our separate things during the day - Bec and I hit the laundromat, and onto an Italian cafe for a slice of pizza and a coffee. Soon after, Bec is off for a massage, so Jas and I hit the Brighton beach, catching up with Sam on the pebbles. Harding doesn't have the guts to go in, but Jas and I brave the cold and show off our bathers to the industry dogs. If that doesn't get Delivery signed, I don't know what will.

We link up with Bec post-massage and the beach session ends with some fish and chips and a beer by the water - how very Brighton. Our final show off The Great Escape stint draws nearer so we head back to the accomodation, get our shit sorted and Bec and I head off early to the venue to drop some gear and grab a bite for dinner. The White Rabbit is bustling with a lot of trendy people, and we catch Irish duo Frank and Beans play a very loud set, before settling in at a pizza restaurant nearby. The rest of the crew roll in, and we all have a bite before locking in for the show. Vibes are high as we hit the stage, and a few more familiar faces pop into the crowd. We play a fun show, wrap up just after 10pm and after a quick chat with some crew, roll out. With an early start tomorrow, there's not too many hijinks - we decide against heading out for one last beer on the pier and head back to the accomodation to load the car up in preparation for the day ahead before bedtime. Brighton is pumping on Saturday night but Delivery have bigger fish to fry!
| Danny in tourist mode at Stonehenge | How good is rock! |
| --- | --- |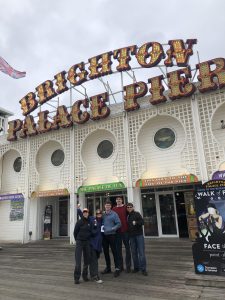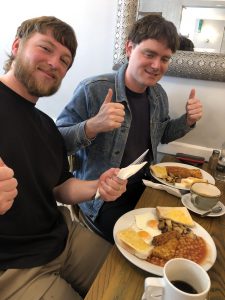 | Loading gear through Brighton laneways | Jas rocking out post-swim |
| --- | --- |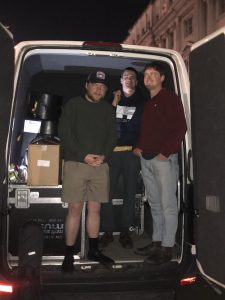 Day 13
Sam: Woke up at 5am to head for the ferry to EU. In the van, listened to Daft Punk's Random Access Memories as intended. Arrive at the ferry at the white cliffs of Dover. Immediately play 'Clover Over Dover' by Blur, then straight into 'Cliffs of Dover' by Eric Johnson. Star power well and truly activated. The line is pretty long to the ferry, so we sneak in Vera Lynn's 'White Cliffs of Dover'. It's a relaxing song to listen to before we get detained at the border, seeing as none of our dumb friends could properly explain how to cross from the UK into the EU.

The ferry was short and sweet. A fair few Jason Stathams on the top deck deleting ciggies. Delivery are choosing which country to stop for lunch in as we glide into Calais 9 in a northern port of France. Wrong side of the road now, Jas is really locking in with French radio station, 101.3 'NRJ'. Radio switches to Belgian 20 mins outside Bruges.

Have lunch in Bruges at Lhasa Tibetan Restaurant. We have noodles, soup and momos, and the owner is one of those dudes that just chills in the restaurant chatting with the people eating. He tells us a bit about Tibet. Back in the van, I have a sneaking suspicion that Jas is gunning for the clock tower from In Bruges before we leave, but it becomes clear that no one else really gives a shit about the clock tower and we're on a real tight schedule to arrive in Groningen for the show. Most of the day is spent in the van. Drive through France, Belgium with Lisa behind the wheel finally taking us into the Netherlands. We have been promised superb hospitality from European venues and after two weeks of UK beige cuisine we are all desperate to see what's in store.

The venue is Vera and it does not disappoint. Incredible people, amazing building with a legendary history. Bands like Nirvana, Dead Moon, and Spacemen 3 have played in the larger room, while the smaller room hosts a heap of quality lineups. We have curry for dinner. The show is great, good energy in the room, people dancing. We're given about 50 drink cards and the beers are flowing. Lisa and Dan put in a really solid performance on the Fusball table. Dan says he clunked three goals and looks pretty chuffed about it. The scenes are becoming wilder as the crowd thins and the night wears on. Around the time that lock-in begins, I can feel the need to sleep catching up with me, and after about another hour of shit-talking, I retire upstairs to bed.
Day 14
Sam: Woke up at 1pm. We wake up to the terrifying screams of people at the nearby amusement park. I see that I've video called Emma at 2:45am and that the call lasted 10 minutes, none of which I can remember. The scenes are grim in the room.

Had a toastie for breakfast at Vera. Did some life admin with washing etc, and now real keen for the day off. Bec, Lisa and James go to meet our hosts Robert and Hugo at the pub, Dan is in bed nursing a sore throat, I've gone wandering the city and Jas is being a bit of a wild card as per. Ate one of the best Bahn Mi's I've ever had in my life. Perfect sauce to crunch ratio.

Vera has quickly become our favourite spots, and it was described by someone as a "wellness retreat". A few movies and books come out and people spend the evening lazing around in bed, before heading out for some Italian food around the corner. We hit the supermarket for dessert and stock up on sweets. None of us can really figure out how to exit the building because you have to scan your receipt to open the gates. One by one we walk straight into them, really solidifying our image of idiot Aussies abroad. Not heaps to report today, was a very chilled one that we desperately needed.
Day 15
Sam: Woke up at 8:50am. No screams this morning, just the frenzied church bells bouncing off the buildings of central Groningen. Hugo prepares us another fine breakfast, including my personal favourite, pizza toasties. We load our giant amps out of a 500-year-old basement. I hit my head on nearly every doorway. Back in the van, we say our goodbyes to our new Vera friends and pull out of the garage. Jas bumps the left mirror of the van in the tight driveway (elected to bump) and is headed to the tribunal for the second time. The guy really needs to think about his future at our club. But he is all smiles as we cross the threshold of the Fatherland, and words like 'Autobahn' that come from the navigation system are echoed in the van. We drive four hours to Leipzig.

Arrive at Noch Besser Leben and pretty much have to get straight into it. I think I'm annoying the band trying to speak German all of the time, especially because I can't speak it, but it's fun to try. We're offered coffee and beers as we set up. Michael is our sound person and is very thorough. After soundcheck we dag around, Bec and Lisa go and get some falafel kebabs and chips. The atmosphere for the show is really amazing. The people in Leipzig go hard, dancing around and having a good time. Once again, we all drink a bit too much with all of the legends that we meet. Special mentions to Johanna who bought a tape and probably danced the hardest, and Marian who was a very gracious host. We all went to sleep in our room filled with bunk beds, clothes reeking of smoke, and proclaiming that yet again it may have been our favourite show yet.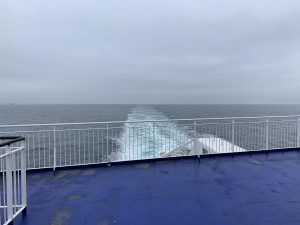 | Lisa getting comfy on the ferry | Beautiful Vera in Groningen |
| --- | --- |
| Inside the hallowed halls of Vera | Delivery with Leipzig legend Johanna |
| --- | --- |