Music / Features
Delivery World Domination -
EU/UK Tour Diary (Part 3)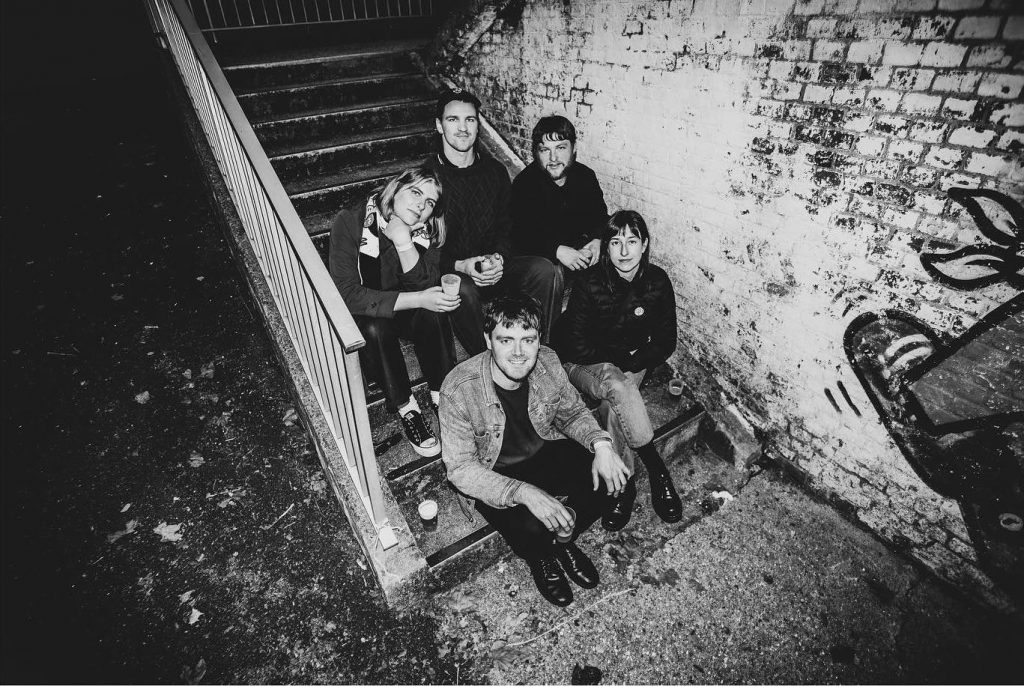 Better late than never, the final instalment of Delivery's tour diary is here and it's everything you could've dreamed of - highs and lows, comedy and tragedy, the perfect amount of drama and rock 'n' roll triumphs. Will Delivery make it through their last ten shows and come out the other side unscathed? Thanks to the continuing bias of TJ's editor, you can now find out.
Day 16
Lisa: We wake up in Leipzig a bit dusty from one too many of those damn tasty Helle beers the night before. As per, we sleep in longer than we should've so we're rushing to get on the road to Berlin. We arrive at Loge and meet the wonderful Simon who has put us on for the night. We load in and soundcheck and head through the underground tunnel to the bar for some drinks and to catch up with some old friends from Berlin. Meanwhile, Jas is back at the van and is deflecting offers from strangers to buy the van in cash.

Back in the bar, on the bartenders recommendation, Bec and and I order a gin and sour and are served a shot of gin with a glass of lemon juice. Not what we expected but it was surprisingly good and I also decided that it held some value in terms of liver detoxification. Doner for dinner again though which immediately cancelled it all out.

Ambulanz are up first tonight, featuring some crew we met in Leipzig from the night before (hi Felix and Jonas)! They absolutely tear it up. LIIEK are up next. I frothed it and was left scrambling to buy a shirt which they sadly weren't selling. I am impatiently waiting to order one as soon as they're up online.

We play next and have an absolute ball. Berlin really turned it on for us, so much so that James felt the need to pass his guitar out into the crowd and start doing the robot?? Special mention to the guy that got on stage and gave everyone the double middle finger before ungraciously diving back into the crowd.

One of the lovely bartenders very kindly puts us up at his flat. We battle up the six floors of stairs at about 3am, climb into the nest of mattresses on the lounge room floor and sleep like babies.
Day 17
Lisa: We have a long lie in and are graciously cooked breakfast by our host which consists of some much needed veggies and croissants. At this point in the tour my entire instagram Explore feed consists solely of vegetable dishes, which is a sad insight into the algorithm anticipating my bodies desperation for nutrients, so I was incredibly grateful for the brekky spread.

We hit the road for Hamburg and make it to Komet bar in incredible time (I personally hate the Autobahn and never want to go on it again). With much finesse, Jas manages to squeeze through possibly the tiniest archway on planet earth into the Komet parking lot. Well at least I was told that he did, I had my eyes squeezed shut the entire time.

The legendary Jens from Wild Wax has invited us to his for dinner, just a short walk from Komet. At Jen's we meet the fellas from MOAR, a garage punk band from Antwerp, who are also on an 11 day euro tour. I find it comforting to cross paths with people that are equally exhausted as us, although the MOAR boys seemed to be holding it together a lot better than we are. Jens cooks us a lovely chilli with some fantastic bread which we devour before heading back to Komet.

MOAR quite simply blow my mind with their music and stage presence, and surprise surprise, they're also a group of legends who we would have loved to hang out with more. We have a great show and, after receiving some minor electrocution on stage (grounding issue with my guitar I'm sure), we pack up. We've made the call to punch out three hours of an eleven hour drive tonight so we get moving as fast as possible. Despite our best efforts it's still not fast enough because it isn't until 1am before we're ready to go. Jas manages to squeeze in one more doner for energy on the road, then we're back on the Autobahn (nooooo), hurtling through time and space towards France.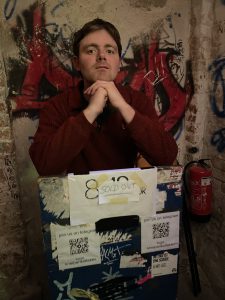 | Hangs at Komet before the show | Snack stock up before we drive through the night towards France |
| --- | --- |
Day 18
Dan: Capping off our short but incredibly sweet run of German shows, we pack our dear Daisy (the van) for a mammoth drive from Hamburg to Le Havre, France. As the centrepiece drive of the tour, we have been mentally preparing for a Melbourne-Sydney style journey, although unlike the Hume, we have the luxury of driving along the speedy Autobahn. At pace we head on our long mission through the night toward Le Havre, stopping in Dortmund for some much needed rest along the way.

In the afternoon we arrive in Le Havre to play Foul Weather - a brilliantly curated festival held in a converted war fort. In the early 1940's this fort was used by German occupants in preparation for British Invasion, and now stands as a community arts space comprised of bars and some incredible band rooms. Sitting at one of the highest points in Le Havre, the fort overlooks the town's port and much of the city's rebuilt suburbia. Some locals tell us how the city was significantly impacted by bombings during this time, leaving Le Havres reputation as an "ugly" city within Normandy and the wider North of France. Melbourne is often called ugly too, but we all know it's the best city!

Greeted with cheek kisses, red wine and an eye watering cheese platter, Foul Weather quickly gives us the French experience we've all been craving. With a full backline supplied for the show too, this was the perfect opportunity for us to unwind after three big shows in Germany. Making the most of this fine hospitality, I cling on to one last German treasure and order a ½ pint of beer alongside a bottle of Club-Mate. In my perpetually tired state, I enjoy every last drop while knowing it's all wine and cheese from here.

After a stint of relaxation and a soundcheck, the Foul Weather tech crew engage in a fun game of "what's that buzzing sound?" mere minutes before the festival doors are set to open. After discovering a stage light that had been overheating, the buzzing sound is stopped and the festival is ready to begin. Bec and James are quick to confirm that this would not eat into our set time before we christen the festival's Tetris stage. Tour de France begins!

After the show we enjoy a beautiful meal prepared by the festival. Roast vegetables, pumpkin soup, cheese platters, wine etc. Délicieux! After dinner we reconvene to watch new friends DITZ, cult classic post-punk group A Place to Bury Strangers (I missed 'em) and my personal favourite of the day, Bracco. We share a beer with our new friend Ludo, the man behind Binic festival in France, and enjoy a pint at the Tetris bar. Ludo tells me that he has Bracco booked for Binic this year, and reminisces to Sam and I about his favourite Australian bands he has brought out to Brittany. After discussing the brilliance of Cash Savage for ten minutes, Ludo confirms to me that Dougal is a small man with a big tank. Take that as you will Doc!

After a long day, we walk down the hills of Le Havre to our humble budget hotel for bed.
Day 19
Dan: We awake in sunny Le Havre after a fantastic show at Foul Weather. We decide to hit the local flea market for some breakfast, but in our usual race against the clock, we opt for a quick baguette from the closest bakery. Back in the van we move toward Rennes for our show at Le Marquis de Sade tonight. Named after a cult classic group from the city, the venue commemorates the band with a large poster of the members adjacent to the stage. We have a listen in the van before everyone in Rennes tell us how great they are.

Upon arrival we are met by Manon who is kindly putting us up for the night. We also meet support band Tally Ho!, who have generously supplied their backline to us for the night. After soundcheck we enjoy yet another fantastic meal prepared by the venue. Quiche, Plateau de fromage, pasta salad, wine, bread etc. Thanks to Manon for prepping this meal for us. Loved it.

As the doors open, we meet the shows promoter, Alex, who runs and operates Swish Swash records in Rennes. We watch Tally Ho! together and enjoy a beer in the packed bandroom. Tally Ho! are so much fun. Their sound sits somewhere between Pavement and Yo La Tengo with a bit of Melbourne spin too. Their was a significant language barrier between us and the group, but they did say "Mikey Young is the king" in flawless English.

After the show we go back to Manon and her partner Baptistes beautiful flat for bed.

*Oops, I forgot that this was the day the van ran out of fuel in the middle of a round about… photos below.
| Backstage at Foul Weather with Ludo and Marius | Backstage at Foul Weather, a few drinks later |
| --- | --- |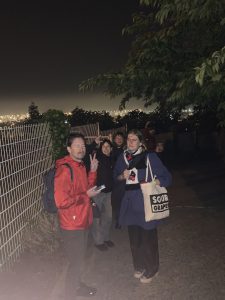 | Dinner at Le Marquis de Sade as Tally Ho! soundcheck | Delivery and Tally Ho! in Rennes |
| --- | --- |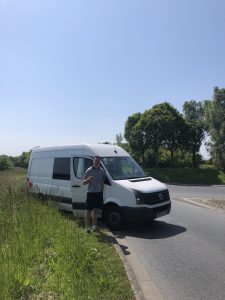 Day 20
Sam: Wake up at Manon and Baptiste's apartment. Beer bottles dotted around the flat from the night before. Swish Swash crew and friends talked about buying tickets to Australia before we all fell into bed. We wake up and are rushed into the van. Lisa leaves her jumper, James leaves his earplugs behind. We leave Rennes and head for Binic.

This is the town run by the Godfather of the town, and mastermind of Binic Folk Blues Festival, Ludo. We met him in Le Havre at the festival and I had the sneaking suspicion that we would definitely be seeing him again. And here we are, finally true to our drunken promises of next day hangs, heading to lunch with Ludo. We are greeted like old friends, and head an Argentinian/French restaurant by the port named "Caminito". The food smells amazing, and we discover a man sitting in the corner is Ludo's dad. Kind of rockin a French-Johnny Cash look.

We find out he is performing guitar in a sea shanty group by the docks later on, and with his ray bans slung in the V of his jacket, I can already tell this guy will give the Man in Black a run for his money. Jas joins the big dogs and speaks French while Delivery are relegated to a nearby kids table. We drink Malbec and eat Empanadas. Dan says it's possibly the best meal he has ever had.

We head to another restaurant nearby and drink coffee and Calvados. Never seen James' face make the expression I saw after he had the first sip. Afterward we dagged around the port waiting for the sea shanty group to begin. They were behind by about half an hour, so we walked to the top of the marina and heard about how the tides swept out of Binic. They went so far out to sea that the boats anchored in the little bay were tilting on their hulls, sitting on the sand in some weird graveyard looking scene.

The sea shanty band absolutely fucked. Couple of great tracks in there inspired by the Celtic heritage of the area. "What Do You Do With a Drunken Sailor" got a gurnsey and Lisa was going off.

The day wears on and we are keen to enjoy the rest of the day off in our accomodation in the next town over. But Ludo remembers my half empty request for a haircut from the night in Le Havre, and I gladly accept. With the razor set at 2.0, Ludo works his magic in his backyard.

We leave Ludo, swapping records, stickers and hugs, before hopping into the van in high spirits and cruising to the next stop for a couple of nights off in Perros-Guriec. After a quick, kind of shit pizza, we all drop off one by one to bed.
Day 21
Sam: Woke up at 9am. We stayed the night in an Airbnb in a small town in the North of Britanny. Head downstairs and made two espressos from the pod machine. It's our second day off today and we've got a fair bit of life admin to get through. The main goal of the morning is breakfast. Bec and Lisa head off to get supplies. I ended up getting some bread. Bec turns it on with a brekky including scrambled eggs, avo, OJ… pretty much everything we weren't able to just pick up on from the service station on the way between towns.

Next we head to do some laundry. The town of Perros-Guriec isn't a bad place to walk around doing menial tasks. The streets are made of pink stone due to the area being part of a coastline that is made of a rare granite. The past week has taken its toll on the wardrobe. There has been a few mentions of emergency jocks and double ups, so it takes about an hour and a half to get through everything. Finally we decide to hit the beach.

Only Bec, Jas, James and James' brother Thomas (who has been joining us at points of the tour on his road bike) are brave enough to run into the blue waters of Trestraou beach. The wind was a pretty harsh northerly and Dan, Lisa and I say "no thanks" and opt to walk around exploring the town.

We meet back up for some drinks at a bar in the shore. Dan orders a cocktail that to me just tastes like a glorified Zooper Dooper. Bec wears her pants as a scarf as protection from the wind, and Thomas goes to greet the strangers that are hosting him in a beach towel and lycra. We go back to accomodation via the Carrefour and blow a fair of money on cheeses, wine and ingredients for a big pasta. The meal is beautiful and we start to highlight different parts of the tour so far around the cramped little dinner table. As we wind down, Jas teaches us a card game which takes us pretty much to bed, ready to get back into rocking for tomorrow.
Day 22
Sam: Not sure of wake up time, but the day begins with us pretty much instantly hunting down a cafe. I eat a croissant, 3/5 stars. Bit off it seeing as we're in the croissant capital of the world.

After packing up the Airbnb we jump back in the van for another drive. Cheese is rotting in the cool bag I brought along, probably because there was nothing cool about it. We arrive at Emilie's house, who knows Jas from years ago. We have a coffee at her beautiful house and are told we're going on a picnic to her favourite spot in the world. We drive to the local supermarket and Lilly the dog starts freaking a little in the front seat because Mum has gone inside to buy a local delicacy.

We spend a few hours on the beach landscape that is described as resembling the surface of the moon. Lilly the dog is scrambling through the grey pebbles on the shore for our crumbs of bread and cheese. Lisa very bravely tries the local delicacy, a sausage made of rolled intestines. Google is telling me it takes 20-25 guts to make, and I think the name is "Andouille de Guémené". Emilie says that it "tastes like arse" and she is not wrong. Jas strongly suggests that Lisa puts a lot of cheese on the same cracker. Safe to say that there are leftovers of the arse sausage. We eventually leave Emilie, thank her for a wonderful day and head to Portsall.

Throughout the whole tour, we have many European people ask, "where is Portsall?". This unassuming, famously unfamous town has a pub that we're performing at called O'DonNeil Irish Pub. It is right on the waterfront and we end up getting a fairly decent crowd of locals and those from surrounding areas down to the show. The night ends with people doing tequila shots in their eyeballs, can't remember what it's called… but somehow Dan and I end up walking out to the drained bay where the boats lie on the sandbanks. I jump in one, and the next morning when asked where the van keys are, I see a vivid image of the keys lying at the bottom of a now very full tide, poking out of the sand below. Thankfully this wasn't the case, and they remained in my pocket.

The accomodation was great for the night. Apparently James and Lisa had been communicating a bit in the evenings throughout the tour due to their tendency to sleep talk and walk. Somehow they come to the conclusion that there is a sailor telling them to get up and pack their things in the middle of the night. We all agree that Portsall is a great place for a little bit of R&R in the middle of a tour. Would 100% come back again.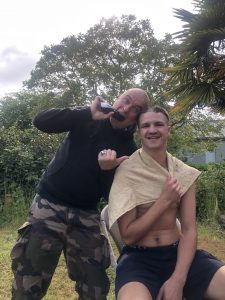 | Delivery and Ludo enjoying the streets of Binic | Family dinner after a day off in Perros-Guirec |
| --- | --- |
| Lunch with Emilie somewhere in Brittany | Sam kicking back out the front of O'DonNeil Irish Pub in Portsall |
| --- | --- |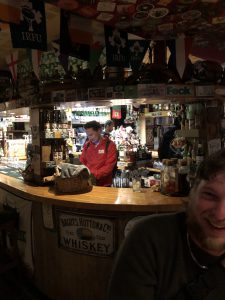 Day 23
Bec: Wake up in Sailor HQ. Good sleep, except for James trying to wake me and Lisa up during the night - I am used to this from James but Lisa fell right for it and started packing her bags to leave half asleep… just to find out moments later that James was in fact sleepwalking and there was no sailor telling us to get up (no harm done ultimately).

We then headed back to the Irish pub for some coffees and baguettes for breakfast. Sam decides he will try to move the car (his first time driving this trip) and he immediately stalls, although it was perfectly done as the van moved the exact distance from the wall that we needed to access the back and finish loading out. Back on the road with Jas behind the wheel, to safely arrive in Nantes.

Pitstop at our favourite Ibis Budget to freshen up and grab some vending machine coffees, then we head to Lune Froide, an awesome spot right by the river with a legendary crew hanging around. Yum local wine is poured and I am happy. Our biggest fans Cathy, Michael and Tom Lynch arrive again and we also get the pleasure of seeing another Melbournite, Lisa's work mate Zac!

Kindly we are offered some pizza for dinner pre show, a delicious veggie pizza and a ridiculously cheesy margarita. I think it had at least five different cheeses on it… this is France baby. The French definitely take their cheese seriously, so much so that dare I say at this point I am starting to get sick of cheese.

Cathedral play a great set and things start heating up musically and literally - the venue was starting to feel somewhat like a sauna. We pretty quickly realised it was gonna be even hotter on stage and it was - I reckon this was the hottest show we ever played.

We are all dripping in sweat at the end of the set. Danny is on the brink of passing out and the cheese pizza prior is not sitting well with me and I throw up. Despite the sweat and spew it was great fun.
Day 24
Bec: Get up and hit the bakery for more baguettes. I am tempted by egg muffins from Macca's but still feeling a bit scarred from our previous experience of fake meat burgers in Leipzig, which was not the ideal breakfast...

More vending machine coffee, then a breezy two hour drive to Tours. We're playing at a place called Le Foudre which is an outdoor stage by another river - we set up and soundcheck, loving this French scenery. It's super windy and I am immediately blinded by debris in my eyes and have to play the first few songs of the soundcheck with my eyes closed. Luckily we are on show 18 and I can do that now (flex).

To our delight we are staying at Ibis Budget again. We drop our belongings and head straight to a bar. Last night's recommendation for Tours is to get the local delicacy Vouvray, a French sparkling wine, and I appreciated the tip because it was delish.

Back to the venue and we're thrown a plastic bag with contents in it for dinner. Despite the concerning packaging we dive in, falafel wraps, yum! More sparkling wine at the bar… James gets the end of the bottle too which the lady says means he will be married within the year, lucky me 😉 Oysters also served, classic Lynchy and Lisa. Sitting by the river drinking while French Canadian psych rockers Hippie Hoorah warm the crowd up, now this is the life.

It's now our turn to rock. By the end of the set mosh pit is on, wild scenes. We finished playing and it's one of the girls with Hippie Hoorah's bdays at midnight so safe to say party vibes were high - a few shots, more wine, an iPhone in a cup dance party, you know how it goes. Time to head home now, I annoyingly play 'What Does the Fox Say?' for the car ride back. Jas is probably ready to rip the stereo out or maybe he loved it, who knows?
Day 25
Bec: This morning we were on a mission to get to the Eiffel Tower before soundcheck. No doubt in my mind with Jas behind the wheel, and before we know it mission accomplished! We arrive with time to get our tourist on and manage to park the van right in front of it too… unheard of.

Food and beers in front of the tower was short-lived due to my fear of pigeons and the parking metre clock ticking, although we still squeezed in a quick photoshoot and even have time for Danny and Lisa to get sucked in by souvenirs. I get a kiss too, city of love, mwa!

We head to soundcheck at Supersonic then back to our accomodation at a nearby hotel, it's pretty grim to be honest but we've seen worse. Not much time spent hanging around there… off to the venue to eat dinner and to our delight we walk outside afterwards and bump into Melbourne friends Dainty, Lil, Oscar and Joel! Happy and hearts full, we are off for spritzes - a place around the corner called Happy Hours where happy hour runs for about eight hours. Is this heaven?

Back to the venue and we are reunited with Honk <3, and Marius and Elisa from Foul Weather, plus we meet Stef Polaks from Polaks Records, and of course we see Cathy and Michael Lynch, how good. We play the show - Honk slay as per usual, we rock out as per usual 😉

Quickly ushered off the stage though as Supersonic's club night was beginning. It's new wave night tonight and the crew are overjoyed… although tbh it was pretty shit, the live cover band seemed to impress James though, almost couldn't get him out of there. We return to the longest happy hour ever, more spritzes, silly times, photo shoots, James and Dan ride a still, horizontal motorbike ect.

Think we had one last beer at the club but new wave night was a little too much so we headed home. Goodnight Paris.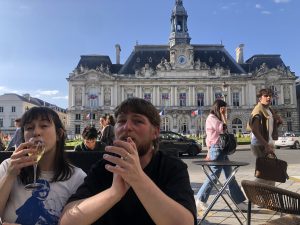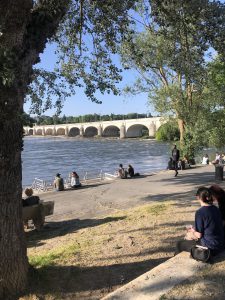 | Sam reunited with his sister Lil at Happy Hours | Sam and Oscar reconnect |
| --- | --- |
| Party time with Bec, Leah and Tash | Motorcycle madness |
| --- | --- |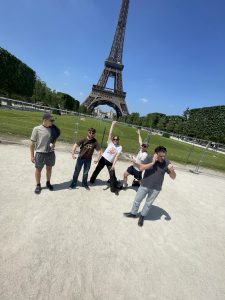 Day 26
James: While Honk put us to shame and get up early for a nice French breakfast and a chance to explore Paris, the Deliveroos opt for the longest sleep in we can afford before checking out of our hotel. The six of us head to a market down the street to see if we can rummage up some breakfast, but before long, Bec and I are at the supermarket trying to hunt down something that isn't more bread and cheese, to give my guts the slightest moment of respite.

The shops were chaotic at best, but we leave triumphant, and meet up with the crew at the van to munch, before Dan from Honk appears (well fed on delicious French cuisine) and we hit the road. We're cruising with Honk for the next couple of days and Dan has elected (or was he forced?) to become an honorary Deliveroo since he doesn't fit in the Honk mobile with the rest of their band. A few sore heads in the back of the van today, so instead of treating Dan to the ride of his life, it's mostly napping and silence in the back. That said, Dan took care of the soundtrack for this drive and we got to hear some cool garage-punk stuff from the UK and beyond.

We arrive at Lille in the mid-afternoon and drop Dan off at Honk's accomodation, before heading towards Le Distrot, a record store/bar that are hosting us tonight. We've heard there's a pride parade going on in this part of Lille so we're all a little excited about getting amongst the fun, but in reality, it means the roads are closed so it takes us over an hour trying to find a direct route to the venue. Eventually we give up and have to walk all our gear a few blocks to the bar. Jas has kept his cool behind the wheel for the entire tour, but I've gotta say, this might've been the closest he got to cracking. Good news though, Jas can never be cracked but it's a well deserved beer at the venue when we finally make it.

There's no real rush to get set up at Le Distrot, so we all wander off to see a bit of Lille and get a bite to eat. In truth, this exploration is probably within a 300 metre radius of the venue, and if I recall correctly, Dan and Sam had the most expensive/worst fish and chips of their lives, Lisa had Subway, and Bec and I found a fairly good Thai place. Also turns out Jas had one more attempt at finding a park in the meantime, and valiantly tackled the streets for another 45 mins to get the van right in front of the venue. Hero.

Back at Le Distrot, we get set up for the gig of a lifetime - since it's a record store, we're squished onto a tiny stage with one microphone to share between us. Nothing like a bit of a challenge for gig #20 of the tour. Somehow we make it work, and as 8.30pm rolls around, the Honk crew and some Lille locals wander in so we hit the stage. We play a very fun set - perhaps it was the low pressure environment, the tight set-up or the fact we could easily chat to the crowd directly between songs with or without the mic.

There's lots of talk with Honk about finding a restaurant or another bar for the end of the night, but Le Distrot sinks its claws in and we end up hanging out there until 11pm. Some yummy wine and a good crew (plus the French doppelgänger of Rhys from Future Suck) made it heard to leave.

Finally, we load up the van for (almost) the last time, and head to our accomodation for the night - a friend of the Le Distrot crew has kindly put us up for the night in their apartment - with a quick pitstop at a convenient store for a combo of chips and sweets. We all pick our bedrooms fairly quickly, and hit the hay.
Day 27
James: Wow, the final day of the tour. We wake up in Lille and attempt to leave early to head back to the United Kingdom, but as always a few classic hijinks hold us up. I'll spare the details but imagine cold water showers, clogged toilets and driving to the wrong hotel to pick up Dan for one last sojourn with Daisy.

Eventually we're on our way to Calais to catch the ferry back to Dover, and we can clearly see via Google Maps that our arrival time is not matching up with the departure time of the ferry we've booked. Add a bit of traffic in, and we're running very late. Spirits are a fair bit higher in the van today though, and once we realise we can rebook to catch a later ferry, the stress is mostly washed away… not for long.

We arrive at Calais and begin the process of driving through customs, in which we're stopped at each terminal where they check our passports and request that we go and see some other official. We soon find out we haven't had our visa properly ticked off when we'd arrived back on May 3rd, and after a bit of a wait in the border security office, we're finally approved and back on our way. Daisy guns it onto the ferry and the gate closes about a minute later, so the hour and a half ferry ride is spent unwinding as best we can - with a few Guinness pints and a photoshoot on the deck.

Back into the United Kingdom, we charge towards the Windmill in Brixton, arriving right on time for a soundcheck at 5pm. We meet some of the Windmill crew, link up with Honk once again and get set up for the last show of the tour. After soundcheck Emma Petley makes her grand appearance, so she and Sam depart for a short yet long-awaited dinner date, and the rest of us race back to our accomodation to drop off Daisy and get prepped for our final rock show. As we check in, we're told at our accomodation which doubles as a bar that they've got a 24 hour license (remember this for later).

Back to the Windmill, and Honk hit the stage and a bunch of familiar faces roll in - very fun to link up with some of the crew we've met over the last month! Es play next and treat us to a charged set of synth driven post-punk, and then it's show time and we send it one last time. We're pretty comfortable onstage at this point, so the set is pure fun - I think everyone knows it's the last time we'll be doing this for a while so we don't leave much behind. No tears though, although we sneak in a group hug.

In a last minute turn of events, some local art-punk legends Fat Dog have been added to the bill, so they hit the stage for a raucous set and Delivery get into party mode. More drinks and fun with Honk, ES, our new and old friends who've come along, and some new friends to be made, and before long we invite everyone back to our accomodation for some more drinks.

When all 20 of us arrive, we find out it's only licensed for people actually staying at the hostel upstairs, so very craftily, we tell the guy working that all of us are in fact staying. It doesn't take a genius to see through this, but somehow we get away with it and end up at the bar until 4am, only realising it's probably bed time when we notice it's getting light outside.
Day 28
James: So there wasn't meant to be a final day of this diary, but there's a few loose ends to tie up. We wake up in our hostel room, which has ended up fitting a few more than the original booking, and most likely still drunk, do our best to check out by 10am.

And then suddenly, the tour is just about over and it's time to go. We have some hugs with the remaining Honk members and try to offload as much merch as we can before they depart. Next up is Sam and Emma (who we're not going to see until late August as they embark on their own Euro adventure), and we share a few more hugs and say some sentimental shit.

The remaining Deliveroos get back into Daisy for one last hurrah, and head towards the van hire spot. We drop off Lisa at a train station on the way (more hugs), and just before returning the van, we decide we probably should treat Daisy to a carwash as she's accumulated a month's worth of dead bugs on her front windscreen.

After a couple of failed attempts plus a 45 minute wait for petrol, we finally arrive at a carwash that seems fitting for our queen. One guy working there warns us that it'll be a wait, but his tune changes when he finds out we're in a band. Somehow we skip to the front of the line so he can spray down the front of the van himself, and instead of being paid for the job, he'd rather buy a record and a t-shirt from us. After asking us all to sign the album, we leave with a clean van and 20 pounds cash - it's a terrible business deal for the car wash, but a win for Delivery.

It's not a bad way to go out, because moments later, it's time to say farewell to Daisy and each other. The tour is officially over, Danny heads off in an Uber and me, Bec and Jas do the same. Peace out.
| Delivery and Dan riding the ferry | Our last day with Daisy |
| --- | --- |
| One last check-out feat. Dan and Xavi | James signs a record for his new mate at the carwash |
| --- | --- |