Music / Features
TJ's Top 50 Tracks of 2020
#20 - #11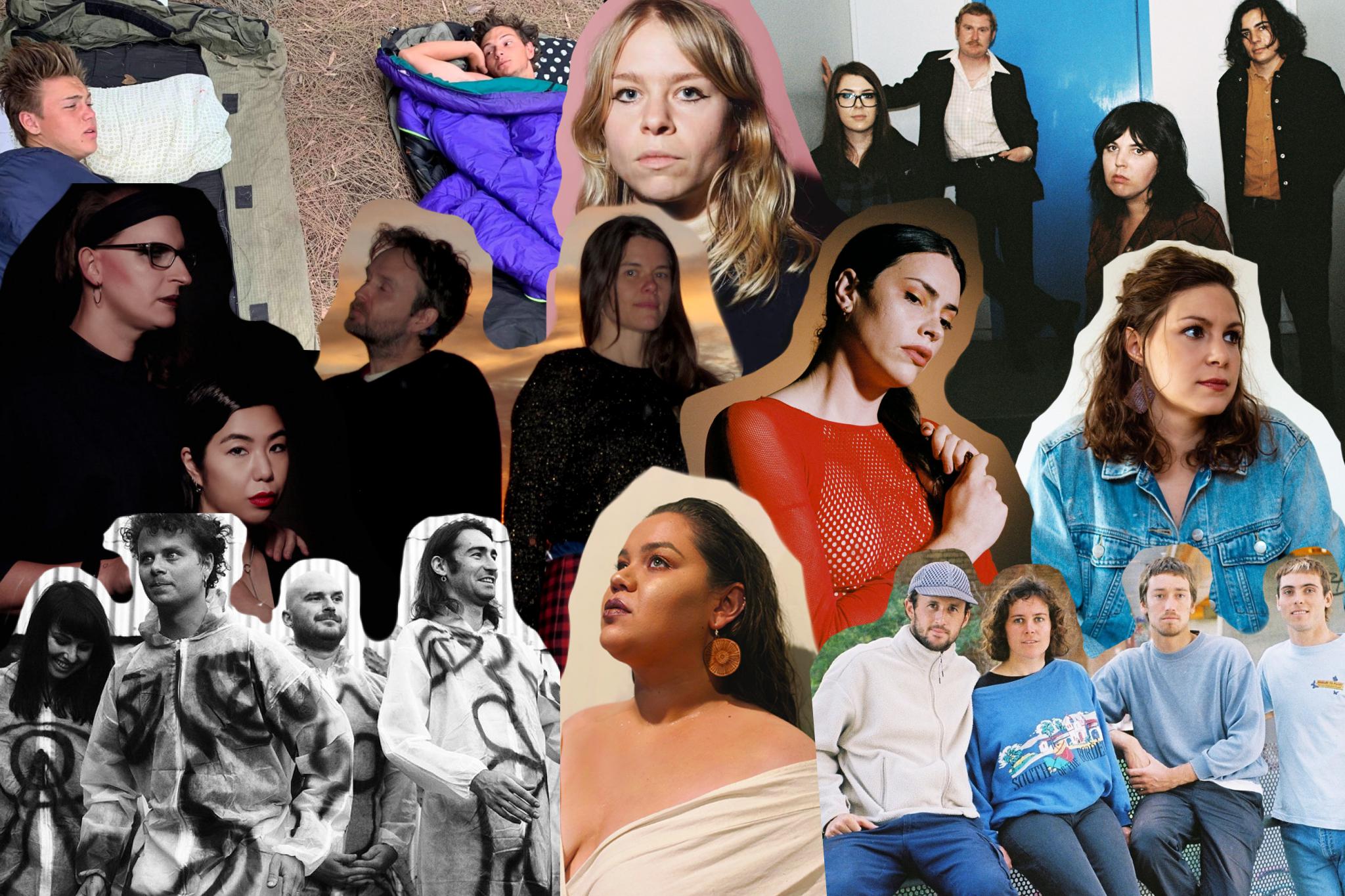 As we head towards the pointy end of this list, now's the time for you all to start complaining about your favourite song that didn't make it in. Would've included them all if we could, but we also couldn't because all these write-ups are taking bloody ages. Hope you're not all too disappointed with the final countdown tomorrow - see you then!
20. Allara - 'Murnong Farm'
Yorta Yorta poet, composer and captivating voice Allara released her third single in 2020, the entrancing 'Murnong Farm', which was built primarily around her double bass and spoken word vocals and brought to life by the thoughtful, simmering production of River Boy. Written as a commission for one of a series of events held by Arts House North Melbourne, 'Murnong Farm' is an exploration into First Nations identity and reclaiming traditions lost as the result of displacement that will have you hanging off every one of Allara's precisely crafted words.
Francis Tait
19. June Jones - 'Jenny (Breathe)'
Our first taste of her forthcoming self-produced second album, June Jones's lamenting alt-pop track 'Jenny (Breathe)' was simultaneously confronting and contemplative, delivered through June's evocative vocals and wrapped up in layers of reverb rich synths and glitching electronic beats. Accompanied by the haunting music video by Geoffrey O'Connor, the weight of 'Jenny (Breathe)' stuck with us long after its emotively exhausting run-time had passed.
Joshua Hicks
18. Leah Senior - 'With or Without Me'
When Leah Senior releases a new record you just
know
it's going to be good, and
The Passing Scene
transcended these expectations with ease. Leah's third album saw her utilising the musicianship of her friends more than ever, and to great effect - each track carefully crafted to gently highlight her contemplative songwriting and incisive wit. 'With or Without Me' rolls loosely between shining guitars, subtle harmonies and tumbling drums with a calm repose that is simply timeless.
Seamus Fillmore
17. Bumpy - 'Falling'
An enthralling side-step from her work as the radiant powerhouse fronting psychedelic-soul outfit Squid Nebula and as a member of First Nations hip-hop collective DRMNGNOW, Amy Dowd's debut single as Bumpy is a delicate exploration of vulnerability and the strength that comes with it. Understated and smokey in moments, the next dynamic and flowing, the track plays as a bold assertion of Amy's stunning vocal ability, that has us leaning in close like a confidant while simultaneously knocking us back with each soaring line.
James Lynch
16. Dr Sure's Unusual Practice - 'Super Speedy Zippy Whipper'
It's been another busy year for Dr. Sure's (not that we ever expected otherwise), gracing us with two bloody good new EPs, as well as a third in the final few days 2019. Pulled from April's
Remember The Future? Vol. 1
, 'Super Speedy Zipper Whipper' is a chaotic burst of angular post-punk about "living in a fast-paced 21st century society with outside forces dictating your every move". In just under two minutes, you'll be engulfed in a whirlwind of feverish guitar hooks and blistering drumming, all tied together by Dougal Shaw's unique lyricism and knack for writing completely unhinged and belting choruses.
Francis Tait
15. SaD - 'Sign From Above'
On their debut full-length
Saturn Rules The Material World
under their collaborative project SaD, Simona Castricum and NO ZU vocalist Daphne Camf joined forces to craft a collection of illusively dark and enigmatic electronica. Equally danceable and devastating, 'Sign From Above' feels like a power surge, with its undulating backbeat, throbbing synthesisers and Daphne's stark lyricism administered in her menacingly cold delivery.
James Lynch
14. RVG - 'I Used To Love You'
It was no easy task for RVG to back up their brilliant debut
Quality Of Mercy
, but three years later,
Feral
assured us there's still plenty more in the tank. Pairing Romy Vager's impassioned vocal with the band's distinctively dreamy guitar twang and an unwavering groove, 'I Used To Love You' is a gorgeously melancholic, yet subtly hopeful masterclass in classic post-punk songwriting.
Francis Tait
13. Floodlights – 'Matter Of Time'
Most sung to myself around the house chorus of the year. A quick follow-on from their
Backyard
EP , Floodlights' debut album
From A View
has been popping up on all sorts of best-of lists over the last few weeks and for good reason. Lead single 'Matter Of Time' is a little under three minutes of glowing Australiana spotlighting all the ingredients that are making Floodies one of Melbourne's most talked about young bands – sincere songwriting, twangy guitaristry and a penchant for yell-along-able choruses.
Francis Tait
12. Ecosystem – 'Eco-Culture'
In October this year, local duo Ecosystem emerged seemingly out of nowhere with their excellent debut album
There and Back Again
in tow. While the pair's earlier bands specialised in either elusive or irreverent punk blitzes,
There and Back Again
immediately felt a little more welcoming – the songwriting a bit warmer, the guitars loose and inviting, the grins lopsided but perhaps a little more sincere. Our highlight was the exuberant garage-punk blitz 'Eco-Culture', a track that's driving pulse and sprawling instrumentation was only matched in charm by its joyous message.
James Lynch
11. The Green Child – 'Low Desk : High Shelf'
While Mikey Young and Raven Mahon's second album as The Green Child saw the pair contorting electro-pop with evocative synthesizer textures, vintage drum machines and uncanny atmospherics,
Shimmering Basset
was always anchored by the duo's compelling pop smarts and their idiosyncratic eye for detail. With its layers of gleaming synth, pulsating grooves and Raven's disarmingly cool vocals, 'Low Desk : High Shelf' was an early highlight that had us thrilled to climb down the rabbit hole with them.
James Lynch